New "Avengers" poster brings superhero-level destruction to New York City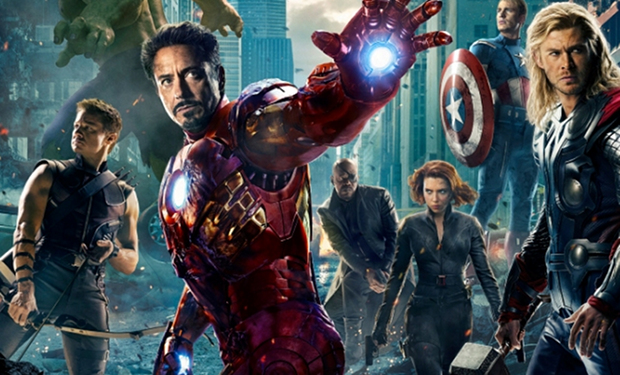 Posted by Rick Marshall on
Marvel Studios debuted a new poster for its upcoming superhero team-up extravaganza "The Avengers" today, and it's an understatement to say that there's a lot going on in the image.
Featuring all six costumed members of the team, as well as S.H.I.E.L.D. chief Nick Fury (Samuel L. Jackson), the new poster has Earth's Mightiest Heroes standing in the middle of a pile of rubble as New York City crumbles behind them.
Some of the notable elements of the image include a damaged Stark Tower, and what appears to be a beam of light shooting up from the remains of the tower and into the sky. Also seen between Stark Tower and the Chrysler Building is a burning Quinjet, the Avengers' official mode of air transport (because every superhero team needs its own jet).
The new poster also gives us a good look at the Iron Man armor worn by Tony Stark (Robert Downey Jr.) in the film, as well as another look at Hulk (Mark Ruffalo), Hawkeye (Jeremy Renner), Black Widow (Scarlett Johansson), Captain America (Chris Evans), and Thor (Chris Hemsworth).
What do you think of the new "Avengers" poster? Chime in below or on Facebook or Twitter.