'The Avengers' screen shot shows Mark Ruffalo as the Hulk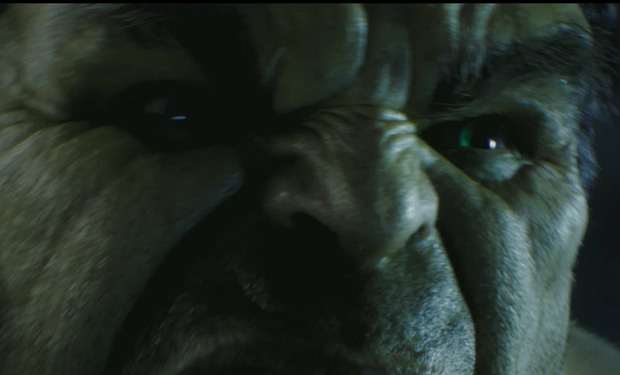 Posted by Terri Schwartz on
If you couldn't tell by the amount of time we've spent covering "The Avengers," we're pretty excited about "The Avengers." The ensemble Marvel superhero movie blasts into theaters on May 4, and there's been plenty of promotion for it. From toys to TV spot, we've seen pretty much everything there is to be seen in the flick without giving the entire movie away. But there is one element we'd be happy seeing more of: the Hulk.
Fortunately, SuperHeroHype has us covered. The "Avengers" Super Bowl TV spot has been out for a little while, but SuperHeroHype snapped a great screen grab of a close-up shot of the Hulk. And, surprise, he actually looks a lot like the actor playing him, Mark Ruffalo.
This is something we've heard about for a while, but never had a chance to see put into action. A lot of the scenes we've seen of the Hulk as the Hulk have been fleeting, and we've been too distracted by how awesome he looks to really see the resemblance to Ruffalo. But it's definitely there, and is actually really cool. Fun fact: this is the first time a CGI incarnation of the Hulk has been modeled after the actor playing him.
Directed by Joss Whedon, "The Avengers" also stars Chris Hemsworth, Chris Evans, Robert Downey Jr., Samuel L. Jackson, Scarlet Johansson, Jeremy Renner and Tom Hiddleston.
Are you as impressed by the resemblance as we are? Tell us in the comments section below or on Facebook and Twitter.