Shelf Life: "All Quiet on the Western Front"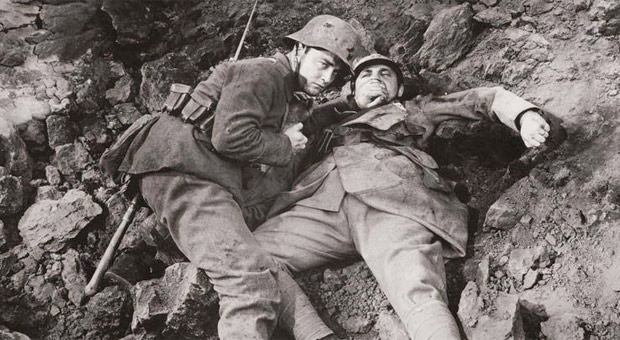 Posted by Todd Gilchrist on
Francois Truffaut once famously said that all war movies are pro-war, because they make the action look exciting. But long before "Saving Private Ryan" and "The Thin Red Line" and even "Paths of Glory," Lewis Milestone made "All Quiet on the Western Front," an emphatic antiwar tome that then and perhaps now still ranks among the most powerful ever made. It's actually hard to imagine, even now, a film which manages not even to honor the sacrifice of soldiers, and instead highlights the pointlessness of war, its physical toll, its psychological impact, and the immediacy of survival that gets forgotten among civilians' ignorant rhetoric and politicians' arrogant authority.
With those other, flashier, more conspicuously cinematic or more existential takes on war, Milestone's film has been largely forgotten, and its legacy certainly wasn't preserved through the years in which its distributor, Universal Pictures, re-edited the film and changed the director's original vision. But now that it's been restored and re-released on Blu-ray, does that version still retain the power that won it awards seven decades ago? We're determined to find out in this week's "Shelf Life."
---
The Facts
Released April 21, 1930, "All Quiet on the Western Front" was immediately praised in America, but elsewhere in the world it was seen as propagandistic, criticized, and in some countries banned altogether. At the 1930 Academy Awards, however, the film won Best Picture and Best Director for director Milestone, and received nominations for Best Writing and Best Screenplay.
Commercially, the film's box office haul is not publicly available, but according to IMDB, it earned $3 million in rental revenues opposite its almost $1.5 million budget. It was also re-released multiple times, although in several different formats: upon its re-release in 1939, anti-Nazi statements were read throughout the film, and subsequent versions were substantially recut by Universal, who changed content and musical elements against the wishes of Milestone. Before Milestone passed away in 1980, he requested that his original cut be restored, but it wasn't until almost two decades later that the United States Library of Congress undertook a detailed restoration. In the meantime, it was added to the National Film Registry in 1990.
---
What Still Works
As a vivid and specific portrait of the horrors of war, "All Quiet" is a peerless film: from start to finish, it seems to comprehensively depict the perspectives – and subsequent truths – about the fates of young men who go to war. Early in the film, a boys' high school professor incites his students to enlist and help the war effort, and their reactions vary from determined patriotism to abject terror to simmering resentment; even before the viewer has seen what "war is like" according to the film, there are multiple points of view about how it affects people, publicly and personally.
Once the teenagers head off to war, however, the film chronicles an escalating series of awful incidents, starting with the unpleasantness of their training, which is run by their local postman, now virtually crazed with power. He tortures them simply because he is in charge, and his mistreatment sets a tragic precedent for their subsequent adventures. Just minutes after they are shown arriving at the front, bombs drop on their company, killing dozens, and the survivors struggle to maintain their sanity as explosions ring out around them, and later, when they're desperate from hunger.
The first big battlefield scene I both a technical and emotional marvel, as it puts the audience in the middle of the action and makes it as disorienting as it must be to actually be there as a soldier. Although the film was released in 1930, it manages to be surprisingly graphic, such as when a soldier reaches the barbed wire in front of the Germans' fox hole, he's hit by a bomb, and the only thing left are his hands, still grasping the wire. Later, one of the main characters dies, and he leaves to another soldier a pair of beautiful boots. But rather than the boots being some poignant tribute that gets recalled every few scenes until the end, there's an immediate sequence in which one soldier after another dons the boots in different battles and dies, ultimately leaving them as an empty trophy on the battlefield.
Towards the end of the film, the main character Paul (Lew Ayres) returns home and reconnects with his family, friends and community members. At home, his mother still worries after him like a child, in a local pub, town leaders and politicians suggest he's got no perspective on the bigger picture and suggest that he and the remaining soldier fight on despite that plan's impossibility, and at his old high school, current students, looking more baby-faced than his class, brand him a coward because he discourages them from enlisting, citing how horrible the experience has been. Somehow, the film manages to provide a deeply sympathetic, unjudgmental and yet unflinching portrait of soldiers sent off to war, making Paul less a hero than a tragic figure who knows only too well of the horrors that await him, and the inevitability of succumbing to them.
---
What Doesn't Work
While the film shows an early scene in which Paul's mother frets of his enlistment and his father celebrates it, there's relatively little in the way of set-up for the character's family or interests. While this isn't strictly necessary, the story introduces a few developments during Paul's leave that do pay off, but because of the film's laserlike focus on war itself, it doesn't make much of an effort to show who these boys really were before they left, and/ or what they left behind.
---
The Verdict
"All Quiet on the Western Front" is a film I admit I'd never seen before, but it now ranks among my all-time favorite war films, mostly because it is staunchly, consistently, brilliantly antiwar. And by that, I mean, not as a political point of view I share, but as a concept that's executed; although Saving Private Ryan, which was deeply influenced by this film, always faithfully depicts the horror of the battlefield, it has a sense of sentimentality that always reminds viewers that what the soldiers are doing is noble and respectable. Milestone's film doesn't disrespect soldiers and their sacrifices by any means, but it also never portrays war with any sense of glory or virtue, and in fact emphasizes the pointlessness of waging war, sending young men off to their deaths, for any reason. And ultimately, its decision to depict this from the point of view of German soldiers in WWI is something of a master stroke, knowingly or not, because it truly allows audiences to see the universality of its condemnation, and tell its story in a way that forces them to identify and care for the people on screen regardless of their nationality, political affiliation, or philosophical disposition. In short, "All Quiet on the Western Front" is an epic tragedy, and one in which we are all complicit, by our very natures.