AIR on Melies, Le Voyage Dans La Lune, and the art of soundtracks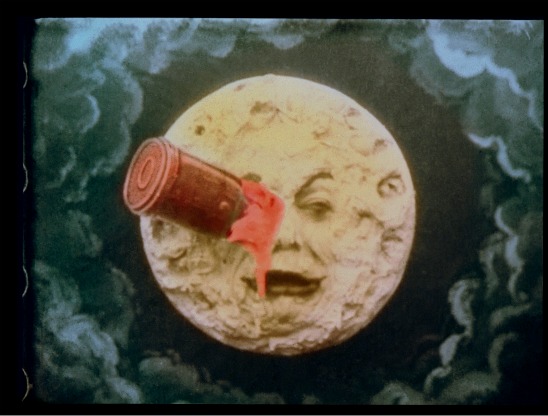 Posted by Melissa Locker on
Georges Méliès is having a moment. Not only was his 1902 science-fiction classic "A Trip To The Moon" heavily referenced in Martin Scorsese's Oscar-nominated film "Hugo," but his original film was recently restored from the lone remaining hand-colored print. To celebrate this remarkable feat of film preservation, Air was invited to create a soundtrack for the film prior to its presentation at Cannes last year. It was an opportunity that band members Nicolas Godin and Jean-Benoît Dunckel jumped at and then managed to knock out in less than a month. Inspired by the project, the band also just released a full-length album, Le Voyage Dans La Lune (for sale here) featuring guest tracks from Beach House's Victoria Legrand and Au Revoir Simone. We sat down to chat with AIR about George Melies, how to find the perfect sync, and when a soundtrack isn't really a soundtrack.
How did you get involved with the project?
Nicolas Godin: We had a request from the foundation and they wanted to have AIR doing the music for the film and they were in a rush because they suddenly realized that the movie was ready and that Cannes would be okay to project it. So they asked us to do the soundtrack really really fast. And when we saw the movie, when we became conscious of the exposure, and the consequences of doing it, we accepted and we directly went on to work. The day after they asked us, we said yes we were going to do it. We started working that day. We had one month.
One month? Wow. Do you normally work that quickly?
NG: People think we are perfectionists because of the music we do, when you hear it, it seems so neat and perfectly recorded, but we don't like to spend too much time on one song. We like to work really fast. We get bored really fast. We could do a lot of songs in one time, but not all of them are good. But we don't like to spend a lot of time on one song. We like to be spontaneous.
Had you seen the film before?
Jean-Benoît Dunckel: No. We knew so well the image of the moon and the rocket that we thought we had seen the film. But when we saw the film we said, okay, we have never seen it. So many people were inspired by that movie. So many directors stole some stuff, some elements, from the movie and used it in their own productions. So I think the movie has much more influence from the people who got inspired by it than from itself.
I was struck by how well your soundtrack was synced up to the film. How many times did you watch the movie to achieve that?
JD: [laughs] Lots. Lots. Lots. Like all day long for like one month. It was the key to success, this synchronization. It was a big gift for us. We knew it was the final edit of the film. We knew nothing would change so we could get really crazy about synchronizing sound. We knew no one would betray us, that no one would change anything. So for us it was a big opportunity. I think it was the key to the success of the music with the film.
You made your album Moon Safari several years ago. Do you think the producers remembered that and when it came to a lunar movie they knew it had to be AIR doing the soundtrack?
JD: I think it was more about the design. More about the style. It is inspired by Jules Verne and HG Wells. The symbols. The stars were characters. It came from the Jules Verne thing. We were really attracted to that. And for Moon Safari it was the same thing. We were really attracted to that because of the Martian Chronicles by Bradbury. It's old science fiction culture. The idea of how wrong they were. These mistakes transform into poetry and it is this poetry that adds to the music.
When you were composing your soundtrack, how did you ensure that the music was so perfectly synced to the action on the screen?
NG: When you work you have the image on the screen on the left and on the right screen you have your recording station and you test things. You throw more ideas and then you test things. You see if it works or not. Sometimes you have a great idea and you test it and it doesn't work and you say, "Oh shit." So then you test and test and you can tell right away if it's going to work or not. You just see it right away. It's very easy in fact.
Smashing Pumpkins' "Tonight Tonight" video was based on the Melies film. Had you seen it? Or is it just one of those questions that plagues you in interviews now?
JD: Yeah yeah we had seen it. It was crazy! But it was on MTV. It was on TV all the time. You know, before YouTube. It was a great video. Really dramatic.
Queen used clips of the film as well.
JD: Yeah they did! Metropolis too. I forgot about that.
When you were making the soundtrack, they were in a rush so they could show it at Cannes. How was it received?
JD: The movie was a blockbuster. Even among the Americans, even though it was by a French filmmaker. What we saw from our side was a lot of press speaking about it. There was a huge response from the French press. We had a lot of articles. They thought the style of AIR with Melies was worth writing about. But some people were shocked by the anachronism that our music is modern and the movie is old, but I think it's a good thing, actually. To run some risk. It's good to do a sort of new make up to the movie.
You also did the soundtrack to Sophia Coppola's film "The Virgin Suicides," do you enjoy making soundtracks?
NG: Each time is so different. "The Virgin Suicides" was such a special movie and "Le Voyage" was, too. And if we did another movie compared to that it would be so strange. If we did a silent movie after this one, it would be strange. And after "Virgin Suicide," it matched so well, the movie and the music matched so well it's like we touched something, we achieved something amazing. We are concerned that if we did something again that it would have a strange taste. Like it was not as good as what we did. We prefer to do new experiences all the time. Whenever we work on a side project we prefer to work with new people from different backgrounds. So after "Virgin Suicides," we worked on choreography. We did something with contemporary art. We just finished video game music. When we do an experience on the side, we like to do things that are so special that after it's hard to repeat it. That's why we didn't become soundtrack composers.
It's really strange the fact that Melies is called a soundtrack when the Virgin Suicides is called a soundtrack when it's not the same process and its not the same result. It's a totally different world. It's the same word "soundtrack" but it has nothing to do with each other. When Sophia needed a theme for the movie, so you write a theme and then you arrange it in different ways throughout the movie. We approached it so differently. But this, it's a silent movie. The music is the dialogue. The music tells the story. It's completely different. You have to make different music for each scene, for normal movies you make a theme and you put it in all the scenes. So that's why I don't think we like doing soundtracks. I don't think it's something we plan to do as a way of life. As a job. We are not film composers. It's a really intense job. If you decide to do that, you have to organize yourself to do that. You can't go on tour, you are at the service of someone, and you are not the boss. You have no freedom. But on this project we were completely free. Basically we were writing the music the day before Cannes, so no one could say a word about it. It was a blank screen. We could do whatever we wanted.
Was that liberating? To have a blank screen and be able to do whatever you wanted? Or was it daunting?
NG: It was freeing. We knew, if they don't like it's going to be my responsibility. But normally when you do the music for a scene, the next day the scene would be longer or shorter then all your work would be betrayed in a way. That's why it was so important for us that we knew this was the final edit of the film. That we could sync things very precisely. Like someone building a watch.
You took the soundtrack you created and turned it into a full length album
JD: The other way around. We took an album and turned it into a soundtrack. It's a hybrid. We had some parts of everything before but we created some original recordings for the soundtrack and added some tracks on to the album and we edited the version of the soundtrack to the album. The result is that when you see the movie you see a lot of heart and emotion because it's made to be shown with those pictures, but on the other hand if you don't have access to Melies, if you are listening to the album you will understand where we were and what's going on. It's very special. Also tracks were driven by scenes of the movie, if it's supposed to be a fight or a sad, it will give an emotional impulse to the music. That's why it gets really crazy at some points. That's why we have crazy solos at some points.
It seems like Melies is really having a moment right now what with "Hugo" and this film.
NG: Yeah, it's amazing. I have no idea, this thing with Scorsese. Especially Scorsese, because his film is all about the moon and the rocket. Hugo has this notebook from his dad with directions to build a robot that will draw that moon with the rocket in the eye. It's this quest throughout the movie. Then at the same time the original movie comes back to life with this restored version. It's crazy. Wherever he [Melies] is now he must be … He was ignored by everyone and now he's back! We are really happy to contribute to this phenomenon. I think he deserves that. We wanted to make his movie as entertaining as possible, because for too many years it has been considered a piece of museum work, something to raise your culture, but you would not see that movie for entertainment. But now with the color and the music, you really watch the movie for fun. For us that was the key of success. If the music was successful it was not that we were making great music, but that you watched the movie without any second thought. That would be the key of success, if we managed to do that it would be a good job.