Adapt This: "Olympus" by Nathan Edmondson and Christian Ward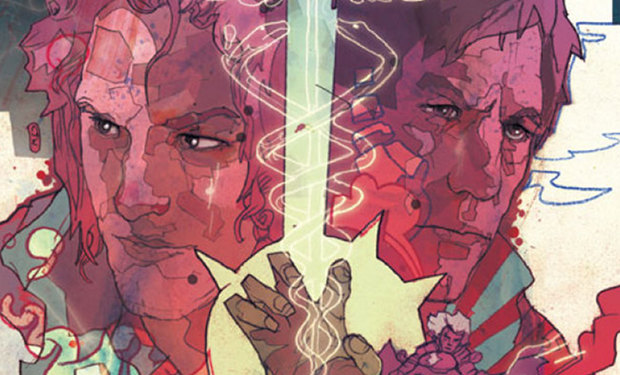 Posted by Rick Marshall on
With Hollywood turning more of its attention to the world of graphic novels for inspiration, I'll cast the spotlight on a new comic book each week that has the potential to pack a theater or keep you glued to your television screens. At the end of some "Adapt This" columns, you'll also find thoughts from various comic creators about the books they'd like to see make the jump from page to screen.
---
This Week's Book: Olympus by Nathan Edmondson (w) & Christian Ward (a)
The Premise: Brothers Castor and Pollux are bounty hunters for the gods, tasked by their father Zeus to track down fugitives from Olympus and keep the balance between the mortal realm and that of the divine. When someone manages to escape from Hades during one of the brothers' missions, the pair must use all of their skills — and the favors they're owed — to prevent an apocalyptic meeting of human and god.
The Pitch: Olympus combines all of the best elements of a buddy cop show (or in this case, buddy bounty hunters) with a hefty dose of supernatural adventure. Rather than having its characters deal with vampires or werewolves, however, the Gemini brothers operate in the world of the Greek gods and their mythology, chasing down rebellious deities and immortals who violate the laws that govern immortals' interactions with Earth.
At a basic level, Olympus shares a lot of elements with the television series "Supernatural," which has developed a loyal following over the course of its long run for finding the right mix of similar elements. Both series follow a pair of brothers with very different personalities as they "solve" something that threatens the balance between our world and everything that lies outside it. Their relationship is the centerpiece of the series, and much of the drama and narrative glue comes from the brothers' interaction with each other and the strange world in which they operate.
Still, an "Olympus" television series would offer quite a different take on the conventions of the "buddies saving the world from supernatural stuff" theme, as Castor and Pollux receive their assignments directly from Zeus himself, and are relatively immortal in their own right. The difficulty in their tasks often stems from being overmatched by the subjects they pursue, who can still give them a good beating when necessary. (They are gods, after all.) In order to accomplish their missions, the brothers rely heavily on cooperative tactics to bring down their targets, and often make use of their own arsenal of supernatural weapons — including a magical hook and chain used to send their subject back to Hades.
Given the story's emphasis on the brothers gathering the right information and equipment for each job, an adaptation of Olympus would actually be a mix of elements from shows like "Supernatural" and "Burn Notice," building on a foundation of familial drama and supernatural elements with intelligent procedural aspects and fast-paced, explosive action. The brothers would receive an assignment, figure out a way to handle it, then procure everything they need to make it happen in the first half of an episode. Once all of that happens, they'd set the plan in motion, deal with the inevitable unforeseen events, and then conclude by celebrating with some drinks, some furthering of an over-arching plot thread, and an occasional bar brawl.
Of course, with so much emphasis on the Gemini brothers, the choice of actors playing Castor and Pollux is possibly the most important factor in an adaptation's success. The pair need to be brothers who will sacrifice everything for each other — and have clearly done so on more than one occasion. Without that level of chemistry, the entire series will suffer, and probably won't develop the momentum for a long run.
There's also a need for some creative effects in an "Olympus" series, as there's no shortage of magical artifacts wielded by both the brothers and their subjects popping up throughout the series. Shows like "Supernatural" have done a great job with this type of thing lately, though, so the necessary effects are less of a concern now than they would've been a few years ago.
The Closing Argument: Cast a pair of talented young actors with great chemistry and have them exchange witty dialogue, punches, and the occasional kiss with a variety of gods, mortals, and pretty young ladies, and you've got the makings of a great monster-of-the-week series with Olympus. Castor and Pollux could easily be as likable for a female audience as they are for male viewers, with the series dishing out equal parts action, supernatural elements, and brotherly drama. Keep the whole thing feeling fresh with good dialogue and plot twists, and you have the makings of a fan-favorite program with many seasons in its future.
---
Would "Olympus" make a good television series? Chime in below or on Facebook or Twitter.