Adapt This: "Dark Rain" by Mat Johnson and Simon Gane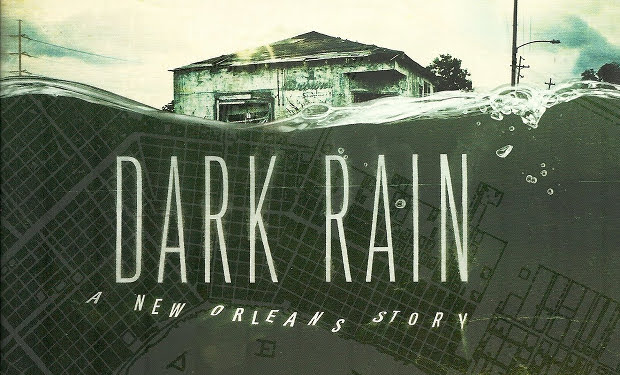 Posted by Rick Marshall on
With Hollywood turning more of its attention to the world of graphic novels for inspiration, I'll cast the spotlight on a new comic book each week that has the potential to pack a theater or keep you glued to your television screens. At the end of some "Adapt This" columns, you'll also find thoughts from various comic creators about the books they'd like to see make the jump from page to screen.
---
This Week's Book: Dark Rain by Mat Johnson & Simon Gane
The Premise: Two ex-cons decide to rob a bank in the center of New Orleans, using the chaos of Hurricane Katrina to keep authorities at bay. Their scheme only becomes more complicated when a private security company contracted to help with the disaster decides to rob the very same bank.
The Pitch: The bleak images and heart-wrenching reports that came out of New Orleans during Hurricane Katrina left an indelible mark on the world in 2005, making this story of desperation, greed, and redemption something that movie audiences will have little trouble connecting with in one form or another.
Dark Rain manages to blend all of the natural appeal of a well-crafted heist tale with the heart-wrenching events of that period as it follows two people chasing their second chance at life in very different ways. And like any good story — whether in literature or on the screen — its cast of characters change and evolve in ways you might not expect when faced with the life-or-death decisions that something like Hurricane Katrina presents them.
Still, having a story unfold against the backdrop of a well-known historic event is always a gamble, and runs the risk of alienating an audience if the storyteller isn't careful. Fortunately, Mat Johnson does an excellent job of letting Dark Rain develop in sync with what we know to be true about Hurricane Katrina and the terrible toll it took on New Orleans.
As former prisoners Emmit and Dabny experience the best and worst of what Katrina brought out in people, there's little doubt that their narrative is a heist story first and foremost, and it moves along at a quick pace that keeps you painfully aware of their surroundings without veering into social commentary. The lead roles would challenge and highlight the talents of actors capable of wading into the multiple layers of drama presented by the heist, the hurricane, and the additional danger posed by the security force that's also targeting the bank.
And while Dark Rain certainly isn't a feel-good story, it is a classic tale of people fighting against overwhelming odds — with both its two main characters and the residents of New Orleans they encounter along the way all trying to beat the storm and the troubles that came along with it.
The Closing Argument: Even if it wasn't set in a hurricane-ravaged New Orleans, Dark Rain would make a great heist film, filled with tense moments, unexpected twists, and compelling characters who evolve over the course of the narrative. The Hurricane Katrina element simply gives the story a sense of time and place, and allows it to keep one foot in the real world as the tale unfolds.
Combining all of the best aspects of a heist drama, a disaster film, and emotional, character-based explorations of what it takes to make someone a better person and how far we'll go for a second chance, Dark Rain is a story that Hollywood should take note of now, while the memory of Hurricane Katrina is still fresh in so many people's minds.
---
Does "Dark Rain" seem like it would make a good movie? Chime in below or on Facebook or Twitter.