Call-In Commentary: Watch the "Act of Valor" trailer with directors Mike McCoy & Scott Waugh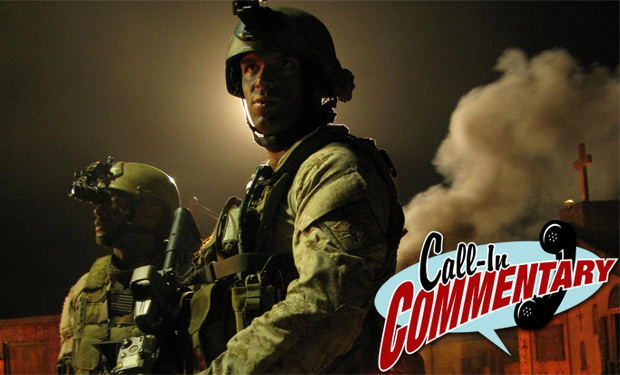 Posted by Brian Jacks on
It took over four years of filming across the globe, but "Act of Valor" is now upon us. The film, from the directing pair of Mike McCoy and Scott Waugh, is intensely original, notably because its main cast is comprised entirely of active-duty Navy SEALs. As such, it could possibly be the most authentic action movie ever made, taking us inside the normally secretive American special operations group as never before seen.
I've watched the movie twice now, and both times had my pulse racing. These are soldiers as you've never witnessed, doing things that you've only imagined. To get a keener insight into the film, we recruited McCoy and Waugh for our Call-In Commentary series, where filmmakers provide commentary to their movie trailer. In the video, listen to the pair describe what went into the making of the movie, just how dangerous it was and more. "Act of Valor" opens in theaters this Friday.
video player loading
.
.
.
MORE CALL-IN COMMENTARIES:
– Watch the "Ghost Rider: Spirit of Vengeance" trailer with directors Neveldine & Taylor
– Watch the trailer for the Oscar-nominated "Bullhead" with writer-director Michaël R. Roskam
– Watch the "Rampart" trailer with writer-director Oren Moverman
– Watch "The Woman in Black" trailer with star Daniel Radcliffe
– Watch "The Innkeepers" trailer with writer-director Ti West
– Watch "The Divide" trailer with its star, cult fave Michael Biehn
View more Call-In Commentaries…
Will you be checking out "Act of Valor"? Let us know in the comments below, or on Facebook or Twitter.