"The Artist" leads the 2012 Spirit Awards winners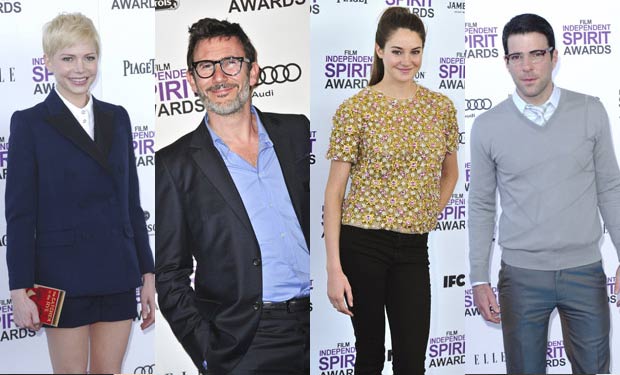 Posted by Terri Schwartz on
It should come as no surprise to anyone who's been paying attention to this year's awards season that "The Artist" swept the 2012 Film Independent Spirit Awards. The critically acclaimed black-and-white silent film beat out fan favorites like "Drive" and "50/50" to bring home the awards for Best Feature, Director, Male Lead (Jean Dujardin) and Cinematography.
But "The Descendants," which has been trailing along in second place in the race for this year's Oscar gold, didn't go down without a fight. The Alexander Payne-directed movie earned statuettes for Best Screenplay and Best Supporting Female (Shailene Woodley). Unfortunately, Woodley wasn't nominated for the Best Supporting Female Oscar, though she likely would lose to "The Help's" Octavia Spencer, who has been a powerhouse this awards season.
Many of the winners throughout the night were indicative of who is likely to take home statuettes during tomorrow's Academy Awards. Michelle Williams won Best Female Lead for "My Week with Marilyn" and Christopher Plummer won for Best Supporting Male in "Beginners." It would be a big upset of either of those didn't get the Oscar for their respective categories, though they are getting a run for their money by dark horses Viola Davis and Max Von Sydow. Meanwhile, "A Separation" beat out "Shame" for Best International Film, and is the frontrunner expected to win the Foreign Language Oscar tomorrow as well.
But what makes the Spirit Awards special is that they nominate many of the independent films that wouldn't otherwise get recognition by big time awards shows. "Pariah" took home both the John Cassavetes Award, "Margin Call" won both the Best First Feature statuette and the Robert Altman Award, and "The Interrupters" won for Best Documentary. And host Seth Rogen's nominated film, "50/50," took home one away for Best First Screenplay (Will Reiser).
There weren't too many surprises during the show, but it is a vote of confidence for "The Artist" that, even up against such stiff, critically acclaimed independent competition, it took home awards in all the major categories. It would be a pretty giant surprise if any other movie took home Best Picture and Director tomorrow evening.
Were you happy with the awards given out during the Spirit Awards? Tell us in the comments section below or on Facebook and Twitter.