The 10 coolest vehicles from comic book movies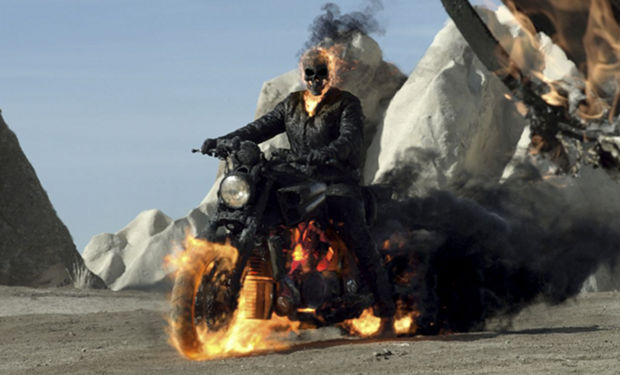 Posted by Rick Marshall on
"Ghost Rider: Spirit of Vengeance" roars into theaters this weekend, leaving a trail of fire and burnt rubber in its wake.
Sporting a new set of directors and a reinvented take on the motorcycle-riding anti-hero, "Spirit of Vengeance" also features a new look at the way Ghost Rider interacts with his fire-spitting ride and anything else he gets behind the wheel of. Whether it's on two wheels or a set of treads, every vehicle becomes an instrument of fiery retribution for Johnny Blaze's demonic alter ego.
Still, Ghost Rider isn't the first comic book character to bring a memorable ride along when making the jump from page to screen. In no particular order, here are our 10 favorite vehicles from the modern era of comic book movies.
---
The Owl Ship ("Watchmen")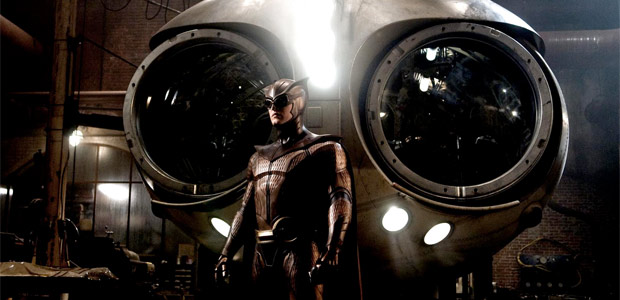 No matter what you think of Zack Snyder's live-action adaptation of Watchmen, it's difficult not to be impressed by the film's version of the Owlship, Nite Owl's high-tech flying headquarters. Not only is it intimidating, but it gets bonus points for staying true to the comic and actually looking like an owl's head. Sadly, it loses some of those bonus points for playing host to one of the worst sex scenes ever filmed, but I digress…
---
While there's nothing too fancy about the sleek jet used by the X-Men to get around the world, there's something to be said for the fact that almost everyone associates the silhouette of the Blackbird with Marvel's mutants even though it was based on a real-world plane developed way back in 1964. Heck, there are more than a few people who might not believe you when you tell them the SR-71 Blackbird was a real plane — it's become associated with the X-Men that closely.
---
Fans of Christopher Nolan's big-screen Bat-verse might scoff at the choice of this version of the Batmobile (from Tim Burton's "Batman" and "Batman Returns") as my favorite of the bunch, but in my mind, this version of Batman's ride offered the best balance of form and function for The Dark Knight. Designed by Anton Furst, who won an Oscar for conceiving of both the Batmobile and the noir-influenced take on Gotham City seen in the film, this Batmobile exists equidistant from Nolan's military-style "Tumbler" and the glowing, missile-like Batmobile from Joel Schumacher's "Batman & Robin."
---
I mentioned this one earlier, but once you see "Spirit of Vengeance" you'll understand why it's on the list. The bike Johnny Blaze rides is already pretty sweet in its normal form (read: not engulfed in flames), but once he becomes Ghost Rider things move to a whole new level of bad-assery. Like a good horse, Ghost Rider's bike comes when he calls it, and always makes a great first (and second, and third) impression with flames that seem to pour from every crevice and a roar that sounds more bestial than mechanical. It's truly a ride fit for a demon.
---
A Horse with Gatling Guns ("Jonah Hex")
One of the funniest images from 2010's live-action "Jonah Hex" movie wasn't intended to be humorous — but it quickly became a popular symbol of everything that was wrong with the studio's attempt to bring DC's famous bounty hunter to the big screen. While the memorable image of Jon Hex unveiling his completely implausible combination of horse and heavy weaponry is burned into fans' brains, it's worth noting that the original version was even more ridiculous. According to "Jonah Hex" star Josh Brolin, an early design for the horse-mounted gun had the barrel placed underneath the horse's belly on a rotating mount — which seems fine until you consider what would happen when the barrel swings from side and shoots off the horse's legs. Owch.