Woody Harrelson dishes on "The Hunger Games" character details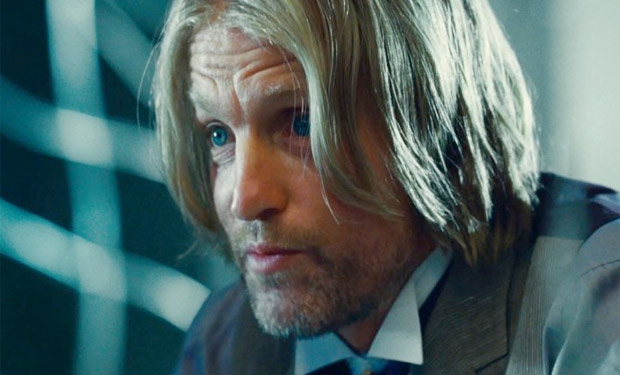 Posted by Terri Schwartz on
All it took was one quick flash of Woody Harrelson's Haymitch in "The Hunger Games" trailer for fans to realize that the actor was going a different route with their favorite character than the one that was in the book. Harrelson's take on the alcoholic, cynical adviser to main character Katniss Everdeen has looked very clean cut and put together, whereas he is described in the novels as paunchy and middle-aged with a tendency to show up drunk to, well, everything.
Apparently Harrelson intentionally did those changes. He didn't want to go the traditional route when he portrayed Haymitch's alcoholism and depression, so he altered some aspects of Haymitch's persona to make him fit better with the movie's adaptation of "The Hunger Games."
"He's got a drinking problem and he's got some issues and he's damaged, but I didn't want to do it totally like your typical version of an alcoholic in a movie," Harrelson told The Los Angeles Times . "So I tried to keep him a little put-together. I dressed him up from what you would expect, too. That was one of my things I wanted — to make him, particularly in the Capitol, a bit of a snazzy dresser — or at least a dresser with his own style."
Apparently Harrelson has only seen one scene from "The Hunger Games" so far, but he was a big fan of it. He has faith in director Gary Ross's abilities to craft a great film, he said. In fact, Harrelson had nothing but nice things to say about "The Hunger Games" in general.
"It's good writing and it just keeps you on the edge," Harrelson said. "And making [the movie] was a fun experience with just really cool people. I was really impressed by everybody that was associated with it. The look of everything is amazing too. The wardrobe is incredible and the makeup, the [stuff] they came up with is mind-blowing. The imagination behind the hair and the makeup and set decoration, it was just really impressive. It's the work of brilliant people."
Do you agree with the changes Harrelson said he made in Haymitch's character? Tell us in the comments section below or on Facebook and Twitter.