Wes Anderson heads to camp (and returns to live action) in "Moonrise Kingdom" trailer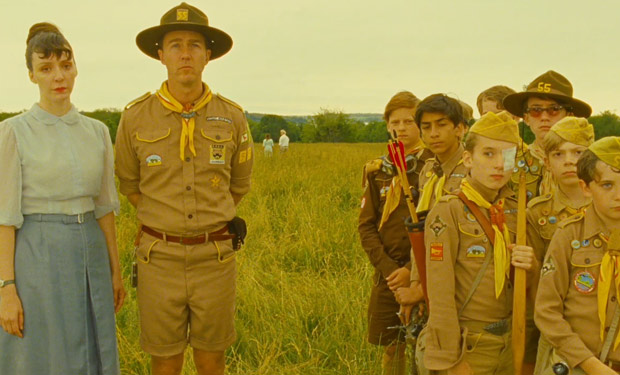 Posted by Matt Singer on
There are certain things Wes Anderson fans want to see in a Wes Anderson movie: A warm and winsome narrative that feels like it was adapted from a French novel that never existed. Crisp, clean, geometric cinematography. Music that is at least thirty years old. Bill Murray. In just two minutes, the trailer for Anderson's latest film, "Moonrise Kingdom," efficiently covers all the bases. The end credits are almost superfluous — Anderson's directorial signature is already stamped on every frame.
"Kingdom" stars Bruce Willis, Edward Norton, Frances McDormand, Tilda Swinton, Jason Schwartzman and — of course — Bill Murray, along with newcomers Jared Gilman and Kara Hayward, who play the focus of the action: two young teens named Sam and Suzy who run away together and spark a manhunt across their New England town (Is it still a manhunt if they're not adults? Whatever.). Anderson co-wrote the film himself with his "Darjeeling Limited" collaborator (and "CQ" director) Roman Coppola.
I suspect mileage may vary on this trailer. It felt a bit too familiar to me, but when I joked on Twitter that the "New Wes Anderson movie looks exactly like all other Wes Anderson movies," I immediately got half a dozen responses all on the order of "I KNOW! I CAN'T WAIT!" Those Wes Anderson fans. They know what they want to see. "Moonrise Kingdom" looks like it will give it to them when it opens in limited release on May 25.