"V/H/S" – First impressions of Sundance's scariest film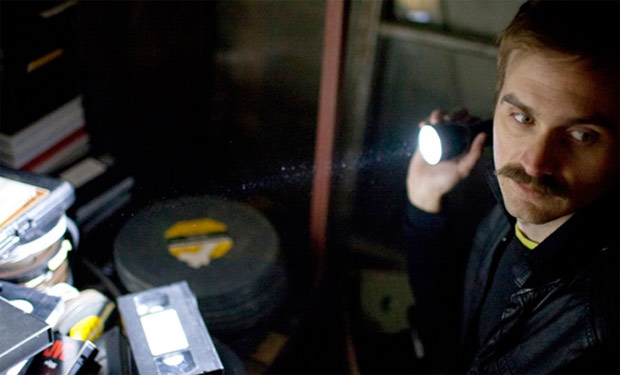 Posted by IFC on
By Jordan Hoffman
What's scarier: ethereal creatures lurking in your bedroom at night or the thought of sitting through another "found footage" horror film? The cabal of independent filmmakers behind "V/H/S," which tore the roof off of Sundance's Library theater at its midnight debut, might have trouble answering that one. And like all good artists, they've confronted their fear.
"V/H/S" elevates itself from recent gimmick films like "Apollo 18" and "The Devil Inside" in a few ways. First the the framing device. "V/H/S" is presented as a peek at a tape a group of criminal friends made when out assaulting women and destroying stuff. (The tape itself is actually dubbed over one of the guys' personal love connection home movies, which winks in and out in a nice recurring gag.) One of their misdemeanor deeds is to break in somewhere and "find a special tape," which now affords the story an opportunity to check out, essentially, five short films.
Each of these tales is shot by a new director. The formats range from recorded Skype chats, a camera specifically of 1998 quality and a spy cam that attaches to a pair of fake glasses. While there is no real narrative connection between the stories, there is a thematic one, which is one of voyeurism, power, deception and murder.
A quick rundown: first is David Bruckner, director of "The Signal," and a film about three douchey guys who use the aforementioned glasses-cam to scope out women. They pick up two girls at a bar and head back to the motel, but it is clear that one of them (the one who keeps staring directly at the camera in a REALLY CREEPY WAY) is a bit off. It is sexy, scary and solid.
Next, Ti West ("The Innkeepers") takes us on a young couple's trip to the Grand Canyon and a motel with the world's worst security system. This one features one of the most innovative takes on the pan-across-the-room-and-reveal-something-unexpected jump scares in a while. Ya see, this time, it isn't what is revealed in the frame, but the realization of who is holding the camera.
This is followed by Glenn McQuaid's (director of "I Sell The Dead") very stylized teen trip to the woods and a creature that comes to life through the very glitchy medium of video itself.
Joe Swanberg's (the Grand Mufti of Mumblecore) entry is a scary-as-hell collection of Skype conversation between a frightened college student hearing bumps in the night and her medical school boyfriend. There are some outstanding moments of tension that exploit the video chat format in really unique ways.
The movie concludes with an entry from the new film collective named Radio Silence which takes V/H/S to levels of pure WTF in a haunted house tweak on Ti West's "House of the Devil." The framing device from Adam Wingard (director of the yet-to-be-released masterpiece "You're Next") lacks some of the jump scare oomph, but is something of the silent hero establishing the dastardly aesthetic of the overall piece.
This is a patch quilt of filmmaking by people who know how to scare the everloving snot out of you. The restrictions of keeping it short and handheld was just what they needed to get the creative juices flowing.
I don't want to oversell this, though. This is not a landmark cinematic breakthrough – but it IS a really fun midnight movie. The stories are incredibly simple, there may be a tad too much boob-leering for good taste and few of the characters are given much depth, but as an exercise in tension, it can't be beat.
As for the reaction, well, the place went ballistic. I do not believe in spirits, but at one extremely tense point I was compelled not to look at the screen, but at some of my colleagues to the left. I saw
three quite established veteran film writers with long histories with genre films with a look of absolute dread on their faces. One literally had his knuckles in his mouth. If that isn't a recommendation to see this flick in the theaters I don't know what is