Tim & Eric talk "Billion Dollar Movie," Woody Allen and their upcoming IFC series "Comedy Bang! Bang!"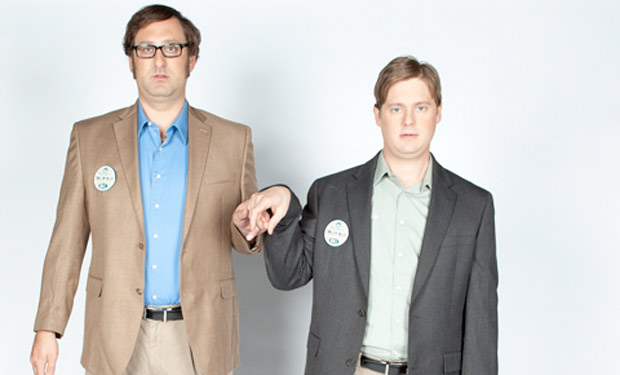 Posted by IFC on
By Jordan Hoffman
After surviving near catastrophic ice-slips and trudging through what many Sundance veterans were calling the worst mid-fest snow storm in memory, I arrived, nose dripping, feet soaked and grumpy to talk to Tim Heidecker, Eric Wareheim and Will Forte.
The grumpiness lasted roughly thirty-five seconds. These guys are about as friendly and approachable as you can get, even a little cheerful to do what is perhaps the least funny thing in the world: analyze comedy.
"Awkward moments are. . .very much our thing," Wareheim offered when I tried to articulate what it was that made them so special. Phrases like "annoyance humor" and "exhaustion humor" didn't quite land as well.
"It's the moments when things go really dark and you shouldn't be laughing that I like the most. Like the scene in 'This Is Spinal Tap' when Christopher Guest leaves the band and Michael McKean is reacting to it."
"I just love the pauses," Will Forte chimed in. "And I think it is because I hate confrontation is real life, I love when it gets dragged out in comedy."
Forte plays what could be construed as the bad guy in "Tim and Eric's Billion Dollar Movie," which had its Sundance premiere about 12 hours earlier. Forte kills as the mustachioed, turtleneck wearing sword salesman in the doomed mall Tim and Eric's new PR consulting firm DOBIS is tasked with saving.
"I'd like to point out we shot in Palm Springs and those turtlenecks got really hot," Forte reminded, eliciting a solid "oh, boo-hoo" from Tim.
What I find remarkable about Tim and Eric is that every single male person under a certain age I know adores them, perhaps to an almost obsessive degree. I wondered what comedies they obsessed over when they were coming of age.
"Christopher Guest movies," Eric fired back without a beat. "And Mr. Show and SNL. Up until the Will Forte years, of course."
Tim concurred with Christopher Guest, and also Woody Allen – both the "early, funny ones" and the later work. And not just because he was there, but you could tell he deeply admired the work Will Forte did on SNL. "Particularly those sketches that would come after the second musical performance. . .the really weird ones."
If you were wondering what the deal was with Tim and Eric's approach to post-production gags, it's like this:
Internally, they call them "glitch-outs." No, they don't write them in the script, but they kinda know whenever they make a loud noise or a strange face that the editors are probably gonna mess with it. Sometimes they simply add them in if they've been cutting a scene and just get board. They are very aware that others are kinda copying the technique (particularly in advertising, which is doubly ironic) and they don't have any hard feelings. "'Cause no one else does it right," Eric stated.
As my time was running up I had to ask about IFC's upcoming show "Comedy Bang! Bang!" that the guys are producing. It is based on the "Between Two Ferns" co-creator and "Mr. Show" alum Scott Aukerman's popular podcast. Will it change the face of TV?
Tim: No.
Eric: Yes.
Will: (a disinterested third party) Maybe.
Eric went on to sing Scott's praises, mentioning that there's so much love for him in the comedy community that all the support he's given over the years is going to feed right back into the show. Tim added that he's jazzed because it is going to be very experimental, more experimental than the podcast, and will really push some boundaries. And that we should prepare for Reggie Watts' music.
How jazzed are you to check out "Tim and Eric's Billion Dollar Movie"? Let us know in the comments below, or on Facebook or Twitter.