"Tim and Eric's Billion Dollar Movie" – First impressions from the Sundance world premiere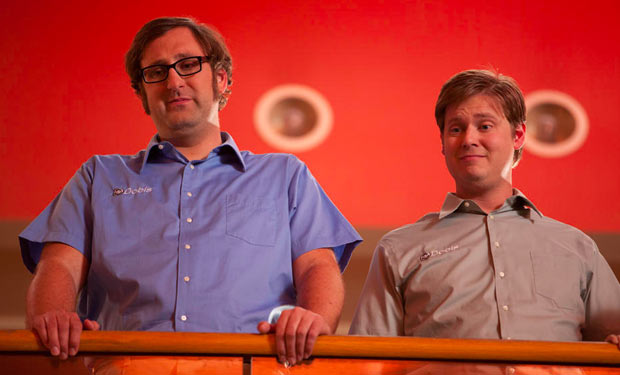 Posted by IFC on
By Jordan Hoffman
Not since John Waters' "Desperate Living" has a feature film ever been more dedicated to stream-of-consciousness shock humor as Tim Heidecker and Eric Wareheim's "Tim and Eric's Billion Dollar Movie." It will simultaneously blow your mind and test your patience, offering bathtubs full of gross-outs, character oddities, baffling post-production tweaks, and, on occasion, some really well-crafted jokes. It is hilarious and innovative, but relentless and exhausting, and will no doubt cause even their greatest supporters to wonder if the fifteen minute format of their "Tim and Eric Awesome Show, Great Job!" might be the perfect clay from which they should sculpt.
The film opens with the greatest series of false starts since "Monty Python and the Holy Grail," but once the story gets rolling our two idiot heroes find themselves in debt to a gangster-businessman played by Robert Loggia after blowing a billion dollars on an awful three minute movie. After a night of hard drinking and body piercing they look to the sky and see their future in the stars: Doing Business.
Doing Business is shortened to DOBIS, a word that is said roughly seven hundred and fifty thousand times in the film (and it gets funnier every time.) DOBIS is a PR consulting firm (or something) and a whacked out, "Top Gun"-loving Will Ferrell convinces then they will find fortune by turning around a decrepit, 1980s looking mall.
The mall, which is overrun by an angry wolf, is a collection of horrible shops like a used toilet paper store and a restaurant where they only serve bread. It's a perfect way to incorporate the sketch comedy feel into this loose narrative. (Well, that as well as fourth-wall breaking cheap informercials to help you "Learn From Your Film.")
Some of the sketches are more creative than others, but all of them are funny. And herein lies the problem. "Tim and Eric's Billion Dollar Movie" is in desperate need of cutting, but I would have no idea what to cut. There's an "in for a penny, in for a pound" type of deal you have to make with yourself when you watch a type of movie like this.
I'd say that perhaps it is a movie best seen at home, where you can pause the DVD and take a break for a while, but then you would miss out on the thrills of a group experience. Watching the silhouettes of the older couple in front of me who were NOT amused by the spiritual healing via teen diarrhea is something I'll treasure for quite some time.
My experience with this ludicrous movie began in an appropriate manner. Prior to the big midnight premiere the film's publicity team threw a rather swank dinner at a hotel atop a giant mountain, then gave some of us a lift in a brightly lit karaoke RV. It got into a light fender bender along the way so we had to hoof in the snow while someone else dealt with the cops.
During the post-screening Q & A Eric was stunned that he counted only six walkouts, and Tim expressed nothing but self-deprecating apologies. Some of the questions got a little silly, like a mom asking if Tim & Eric would sign her son's nipples, and Tim joked that, "Hey, this was Sundance, maybe ask me what my favorite Godard film is?"
As the crowd filed out, it was clear that the reaction was mixed. Die-hard fans were gleeful and already quoting the film. But one woman looked clearly disgusted and was overheard saying, "They lost me with the masturbation scene."
Are you looking forward to checking out "Tim and Eric's Billion Dollar Movie"? Let us know in the comments below, or on Facebook or Twitter.