"The Princess Bride" 25th anniversary wine coming your way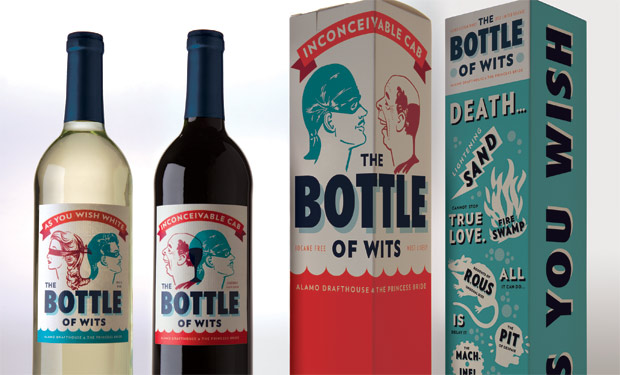 Posted by Terri Schwartz on
Craving for something delectable to accompany your viewing of "The Princess Bride" for its 25th anniversary? Well, you're in luck.
The Alamo Drafthouse has launched a line of signature wines to accompany "The Princess Bride's" big year. Appropriately titled the "Bottle of Wits," the wine line will include an "Inconceivable Cab" 2009 vintage California Cabernet and an "As You Wish White." Disclaimer: this wine is not laced with iocaine powder. At least, not that we know of.
Both wines will be available for purchase at all Alamo Drafthouse locations starting on February 14. They'll be available to buy online soon after.
"At the end of last year, we were thinking about ideas to do something really fun with our wine list at the Alamo Drafthouse Cinema. To solve that challenge, a group of us got together after work, opened a bottle (a time-honored Alamo tradition) and started to brainstorm our favorite movie scenes involving wine. Quickly The Princess Bride rose to the top. The 'Battle of Wits' sequence between Cary Elwes and Wallace Shawn easily stands toe-to-toe with 'the Sideways Spit Bucket' and 'The Silence of the Lambs Chianti slurp' as wine's shining moment in film," Alamo CEO and Founder Tim League said in a press release. "Although we can't print it on the label because of legal reasons, we also promise each bottle to most likely be iocane free."
Both wines will debut during Alamo's "The Princess Bride" Quote-Along Feasts (find out about the events in Austin, Houston, San Antonio and Winchester, VA). Each of the feast's five-courses will be paired with wine, including "Inconceivable Cab" and "As You Wish White." Glasses will be offered for purchase at Alamo Drafthouse locations for $7 a glass or $28 a bottle.
Austin local creative firm Helms Workshop created the artwork for the wine boxes. They also helped design t-shirts and wine glass charms themed to "The Princess Bride" that will be available online with the wines.
So if you're lucky enough to live near one of the four Alamo Drafthouse locations, it would be inconceivable for you to not stop by and try a glass of one of these two wines. If you're like the rest of us, though, and don't have one nearby, just cross your fingers that your state allows alcohol to be delivered to you by mail.
Are you as enamored with these "Princess Bride"-themed wines as we are? Tell us in the comments section below or on Facebook and Twitter.