"The Hunger Games" photo promises the Girl (and Guy) on Fire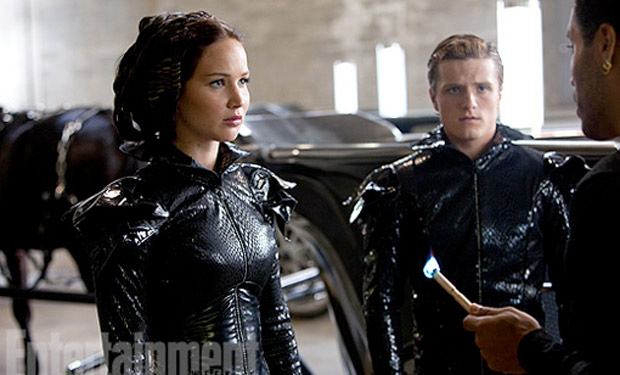 Posted by Terri Schwartz on
Let it never be said that Lionsgate doesn't know how to play to their audience. "The Hunger Games" teaser material has been tip-toeing around the one scene that is arguably the most anticipated visual spectacle in the movie, and the latest still from the flick underlines the fact that Lionsgate isn't going to give that moment up easily.
What we're talking about, of course, is the "girl on fire" scene during the Hunger Games opening ceremony. Fans of the book are aware of what we're talking about, and it's too symbolic a moment to give away for those who are clueless. The closest we've come to seeing this moment is when two Capitol attendees of the ceremony look through binoculars at two blazing figures in the distance, but to us that doesn't really count as showing anything. Fortunately Entertainment Weekly got their hands on a new image that gives us a better look at what we can expect.
The still features Katniss (Jennifer Lawrence) and Peeta (Josh Hutcherson) decked out in their opening ceremonies regalia, as Cinna (Lenny Kravitz) readies a flame to, you guessed it, light them on fire. The look is a bit different than what we pictures in the books, but the outfits do have the potential to look awesome (we're withholding judgment until we see them in their full glory). EW has a quote from director Gary Ross discussing why costume designer Judianna Makovsky chose the outfits she did.
"What Cinna was trying to do was create something that came out of District 12, out of a coal mining world, with a fresh, bold look to it," Ross said. "So Judianna went to this wonderful black reflective material that glistened like coal or graphite and would obviously work well in the Tribute parade where Katniss becomes the Girl on Fire."
We're excited to see the outfits in action. But seriously, could Lionsgate be teasing us any more with this photo? They better pay up in the next trailer released. Or bump up the movie's release date to tomorrow. Either would be acceptable.
What did you think of the new "Hunger Games" photo? Tell us in the comments section below or on Facebook and Twitter.