"Hangover" stars reportedly set to reap huge pay day for threequel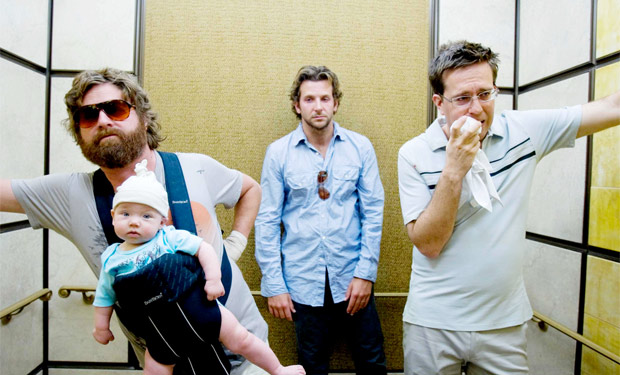 Posted by Terri Schwartz on
The men of "The Hangover" are looking to have some serious compensation for waking up with a splitting headache their third go-around. Apparently Bradley Cooper, Ed Helms and Zach Galifianakis are in negotiations for a third installment of the raunchy series, except this time they're asking for $15 million a pop.
It's a pretty big pay increase considering the fact the three of them each made less than $1 million for "The Hangover," and $5 million a piece for "Part II" (though they also received back-end profits, which put each of their paychecks up in the teens). The Hollywood Reporter has learned that the trio is making a united front to Warner Bros for their big paychecks, and insiders are saying that they'll likely get what they want.
If that's the case, then we can expect the movie to shoot this summer and be ready for a Memorial Day 2013 release. After losing their high-grossing "Harry Potter" and "Batman" franchises this year and putting planned 2013 releases "Akira" and "Arthur & Lancelot" on hold (at least for the time being), WB is looking for something to fill the gap. THR believes that both of those factors are what caused WB to be so willing to negotiate on "The Hangover 3."
Another interesting tidbit in the THR article is that the new movie will scrap the tried-and-true "Hangover" formula of the previous two flicks. This installment will be set in Los Angeles and will apparently "deviate from the forgotten-debauchery formula of the first movies." That's a relief, considering it seemed a little overdone in the second film, but it will be interesting to see how number three earns its "Hangover" title.
Are you excited there will likely be a third "The Hangover" movie? Tell us in the comments section below or on Facebook and Twitter.