"The Crow" reboot gets a new director and writer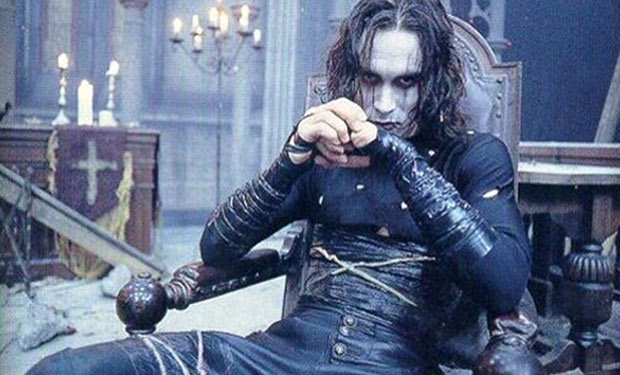 Posted by Rick Marshall on
Plans for a reboot of "The Crow" screen franchise continue to roll along despite the occasional bump in the road, with yesterday's resolution of the legal battle over the character now followed by the announcement of a new writer and director for the project.
Relativity Media announced today that the studio has finalized a deal with "Before the Fall" director F. Javier Gutiérrez toget behind the camera for an upcoming "reinvention" of The Crow. The studio paired the announcement with news that writer Jesse Wigutow will pen the film's script — though it's unclear whether he'll be writing an entirely new draft or revising one of the many existing scripts (including a draft penned by Nick Cave).
Based on The Crow comic book series James O'Barr, the original 1994 movie starring Brandon Lee was a critical and commercial success, garnering some of that attention due to Lee's death during filming. It went on to spawn numerous sequels, a television series, and other spinoff properties, though none of them achieved similar success.
Gutiérrez is the latest in a series of directors attached to "The Crow" reboot over the last few years, with "Blade" director Stephen Norrington initially chosen to write and direct the film, only to depart the project several years later. "28 Weeks Later" director Juan Carlos Fresnadillo was announced as the new director early last year, but he left the project in October.
A similar line of writers have been attached to and detached from "The Crow," including Norrington and "Watchmen" writer Alex Tse, as well as musician Nick Cave, prior to today's announcement regarding Wigutow.
Spanish filmmaker Gutiérrez is best known for his film "Before the Fall," which follows the events that transpire after the world learns that a planet-killing meteor is on a collision course with Earth. Wigutow, the new writer on "The Crow," is a relative unknown, though the studio indicates that he's worked on "Tron: Legacy," "8 Mile," and "The Ruins" in some capacity.
According to the studio, the upcoming reboot looks to offer yet another gritty take on the story of Eric Draven, a man who returns from the grave to avenge the murder of his wife. There's no date for filming to begin at this point, and no target for release date. Bradley Cooper was previously attached to star in the film, though he has since left the project. The new lead actor has not been announced yet, though rumors have pointed to Mark Wahlberg, Channing Tatum, or Ryan Gosling as potential leads.
What do you think of all the news surrounding "The Crow" reboot so far? Chime in below or on Facebook or Twitter.