"The Comedy" – First impressions of Tim Heidecker's controversial Sundance film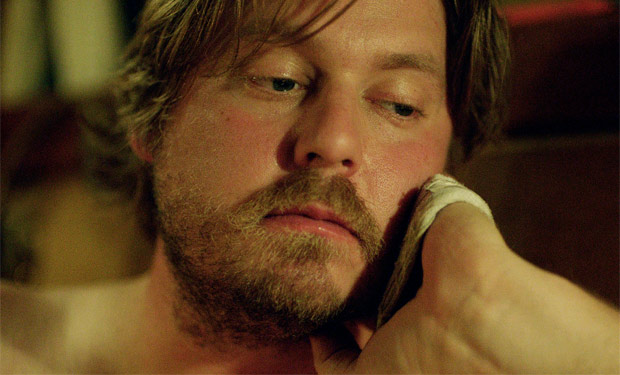 Posted by IFC on
By Jordan Hoffman
There are some characters you love to hate. Like, you know, Severus Snape or Bill O'Reilly. But what about characters that you loathe – how can you spend an entire movie with them? That's the question behind "The Comedy", the new experiment in darkness starring Tim Heidecker that debuted at the Sundance Film Festival. The answer is: it ain't easy.
Receiving more walkouts than anything else I've seen at the fest, those of us who stuck it out collected in the lobby to, first, pat ourselves on the back and, second, collectively agree that while "The Comedy" is one hell of a challenging film that may ultimately be bullshit, it deserves tremendous respect for its clarity of vision.
"The Comedy" opens with slow motion shots of half-naked, none-too-in-shape thirty somethings drunk off their ass and wrestling/dancing/"tucking in" to a a slow R&B tune. These few minutes alone would work as installation art in some of the more rarified galleries.
We're then introduced to our lead (Heidecker) drinking whiskey and watching a male nurse comfort his ailing, wealthy father. He unleashes a tidal wave of bile, ruthlessly cutting into this young caretaker, going way beyond funny barbs into horrible cruelty. It is one of a number of viscous rants we'll get from Heidecker as he makes his way being a dick around the hipster areas of Brooklyn.
He's a man in pain. We get it. And if you have a heart, you want to sympathize with him. But how far can you be pushed? This is the central question behind "The Comedy", but there's also something very interesting and now going on right here. Tim Heidecker and his cronies are the titans of underground, experimental comedy right now. They're "always on" and they're always pushing boundaries. Is it a barrel of laughs to be with them? No it is horrible.
They drink, slack, put one another down, one-up one another with gross-out jokes and, when feeling really energetic, get out of the house to harass taxi drivers or act disruptively in a church. I don't even know if this is even anti-humor, it's just sociopathic behavior. It's not "Animal House," it's Lars von Trier's "The Idiots," or Dylan's crew from "Don't Look Back" on some dark, dark drugs.
It's an obvious conclusion of the navel-gazing mumblecore movement, but I can't tell if The Comedy hates mumblecore or not. Frankly, I can't tell if The Comedy hates life or not. There's a brief, brief moment where it looks like love may soften the story (Kate Lyn Sheil, who also appears in this Sundance's "V/H/S," is spectacular as Heidecker's female counterpart) but this is quickly dismissed in one of the film's most awkward scenes.
There's a lot of competition for that title, frankly. The scene where Heidecker goes to a bar in an African-American community just to "get out of his comfort zone" elicited many walkouts. I was a little tempted myself.
So. . .is this movie good? It certainly has a commitment to what it wants to say. I interpret it as an examination of the destructive powers of white privilege on itself. No one of our crew works, except
for when Heidecker gets a job washing dishes, just because he probably thinks that it's an absurdist thing to do. (Or maybe this is a desperate attempt to make some sort of connection somewhere, anywhere.)
Ultimately, the film isn't pleasant. And it isn't funny. Some of the set pieces are like a Tim and Eric sketch (Wareheim shows up for a few scenes) drained of all of its humor – leaving only the awkwardness. If you are a hardcore fan of this comedy movement, you should check it out. It's like a guy from your favorite band putting out a side project album. It won't be something you play over and over, but it is a unique opportunity to hear a variation on a tune.
Does "The Comedy" sound like something you'd like to check us? Let us know in the comments below.