New "Star Wars: The Phantom Menace 3D" posters put the Force that much closer to being with you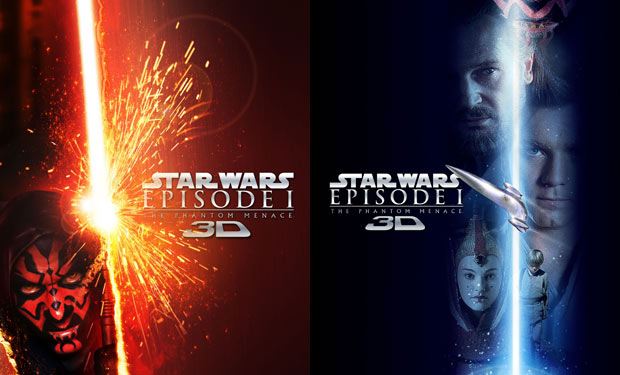 Posted by Terri Schwartz on
Five new posters have been released in anticipation of the February 10 release of "Star Wars: Episode 1 — The Phantom Menace" in 3D, and we're liking them a hell of a lot more than we liked the first one.
Kino Gallery posted the images, which largely feature Darth Maul. Three of the five posters toy with the imagery of the lightsaber, which actually comes out looking really great.
Though some of the film's "key characters" are back on the promotional material — we mean Anakin Skywalker, not Jar-Jar Binks fortunately — the focus of the new posters are definitely on the cooler aspects of the movie. We're of course talking about Darth Maul, pod-racing and Qui-Gonn. And while spoiler alert none of those three live beyond the first movie, they're still worth celebrating in poster form. And the posters really are pretty awesome.
Other than the pod-racing poster, none of these really play up what we'll be seeing in 3D. Instead they focus on the characters, taking points from the original "Phantom Menace" posters released back in the late '90s and updating them to promote fans' favorite aspects of the franchise. In other words, lightsabers and the Jedi vs. Sith battle.
"The Phantom Menace" was originally released on May 18, 1999. The film was directed by George Lucas and stars Liam Neeson, Ewan McGregor, Natalie Portman and Jake Lloyd.
Are you going to see "Phantom Menace" when it hits theaters in 3D? Tell us in the comments section below or on Facebook and Twitter.