"Star Trek 2" update: Leonard Nimoy visits the set, script changes and Kirk and Spock fight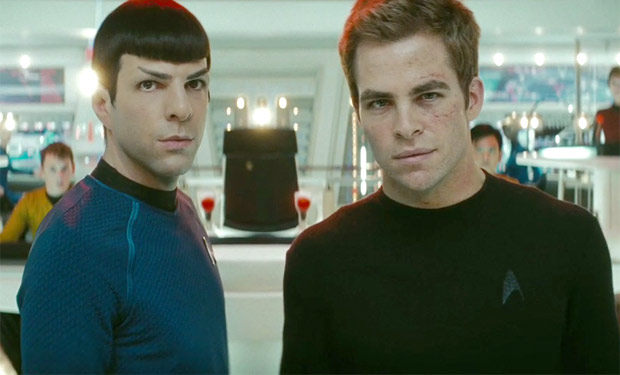 Posted by Terri Schwartz on
Filming on "Star Trek 2" is well underway, which means that there are plenty of new tidbits to learn about the project. Leading man and lady Zachary Quinto and Zoe Saldana were out and about chatting about the film, while original cast member Leonard Nimoy teased that he'd be venturing to the "Trek 2" set some day soon. Unfortunately, most of these news bites raise more questions than answers.
That last bit first. It was originally stated that no old cast members from the "Star Trek" TV series would be appearing in the new movie. But Nimoy tweeted on the 26th that he's been invited to visit the set this week. So will he be appearing again in "Trek 2," or is this just a respectful invitation to one of "Star Trek's" greats? We'll have to wait until May 17, 2013 to find out.
Meanwhile, Saldana was busy making the rounds at Sundance promoting her movie "The Words," and she offered up some truths and lies about "Star Trek 2's" various relationships. The truth is that director J.J. Abrams plans on following through with the groundwork laid for Uhura and Spock's relationship.
"All I'm going to say is, if you put all the time and energy and wit into setting these two characters [Spock and Uhura] together in the first movie and didn't follow through, it would be a shame," she said to The Playlist.
The lie is that all is hunky dory on the set of the Enterprise. " It's going to be boring. There's no conflict between Kirk and Spock, they agree on everything! They're beer buddies. And there are no bad guys. We're just cruising in space," she lied to The Playlist. That's interesting, since Kirk and Spock were buddies at the end of 2009's "Star Trek." It sounds like that has changed a bit in the time since.
Lastly, Quinto recently told E! Online that the script for "Trek 2" is constantly changing.
"It was the middle of December and finally I had to be like, 'We need to read the script.' They waited a pretty long time, but that's because they were working on it," he said of writers Robert Orci, Alex Kurtzman and Damon Lindelof. "There was a writer's strike the first time so they weren't able to let the script evolve. Now it's really changing…on a regular basis."
Orci took to the comments section of the TrekMovie message boards to clarify Quinto's comments. Turns out that the changes have been relatively minor, and haven't effected major plot points.
"The story hasn't change, the structure hasn't changed, and the action sequences haven't changed. Most changes are minor. The changes I suspect Quinto is referring to are the character interactions as we fine tune the level of their various friendship," he wrote. "Given that the time past in real life is different than the amount of time passed in the movie world, it takes a polish to get it just right."
Are you excited for "Star Trek 2"? Would you like to see Nimoy make another appearance in the new franchise? Tell us in the comments section below or on Facebook and Twitter.