Rumor pegs Spider-Man for a cameo in "The Avengers" (right after the flying pigs sequence)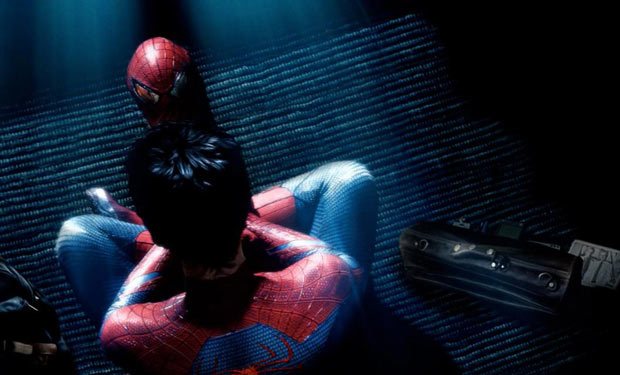 Posted by Rick Marshall on
There are rumors, and then are rumors, folks — and one of the latter that's being tossed around the online world now regarding "The Avengers" is a doozy.
According to various sites, "The Amazing Spider-Man" star Andrew Garfield is poised to make a cameo as the friendly neighborhood wall-crawler in "The Avengers," much like a certain clawed Canadian mutant dropped by for a quick scene in "X-Men: First Class." And while it might not sound like such a big deal to people who aren't plugged in to every detail of Hollywood's relationship with the comics world, let's just say that an appearance by Peter Parker (or his web-slinging alter ego) in "The Avengers" is, well… highly unlikely (to put it mildly).
But hey, anything's possible in comics, right?
Now, before I get into the reasons why such a cameo is so unlikely, let's look at how the rumor got started.
Earlier this month, the eagle-eyed crew at Bleeding Cool cited an interesting interview with actress Jenny Agutter in which her role in "The Avengers" was brought up. Like much of the cast, she's sworn to secrecy about anything related to the superhero team-up extravaganza, but she did let slip with one potential bombshell.
Here's an excerpt from the interview that was published in The Radio Times:
As for Agutter, she's about to metamorphose again to appear alongside Samuel L. Jackson and Scarlett Johansson in upcoming Hollywood blockbuster The Avengers.

"I'm sworn to secrecy! I wasn't allowed a script until I got there, and when I did I felt like a complete child being on big sets and a huge parking lot full of Winnebagos."

She does let slip that two of these housed Spider-Man and Iron Man; we suspect Agutter won't able to avoid sci-fi conventions for much longer.
Just in case you missed it, go back and read that last line again. It's okay, I'll wait.
So the Winnebagos on the set were for Iron Man and Spider-Man, eh?
Now, since this interview was picked up, lots of sites have attributed the Spider-Man reference to a mistake on the part of either Agutter or the Radio Times, which probably doesn't know Doctor Doom from Darkseid, but that hasn't stopped some from seeing this as proof of a certain webslinger's cameo in the film.
Many of the sites trumpeting the rumor as fact point to the announcement that Walt Disney Company (which owns Marvel Entertainment) and Sony Pictures (which owns the rights to make Spider-Man movies) settled on an agreement back in November 2011 to share the rights to "The Amazing Spider-Man." Sony would own the movie rights to Spidey, while Disney would own the merchandising rights to the character and his movie incarnations.
According to Best Movie Ever News, a "trusted source" has not only confirmed the cameo, but offered some details on why it's happening:
"This will be similar to how Wolverine made a quick cameo in X-Men: First Class and Sony's going to make sure to promote their new Spider-man movie any way they can," reports the site's anonymous source. "Andrew's (Garfield) isn't a widely known actor so they want to get his face on everything, including The Avengers even if it's for a couple seconds."
Now, before you get psyched to see Spidey swing across the screen while carrying Captain America on his back, make sure to keep in mind that this is all just a rumor right now — and an extremely questionable one at that, posted by a site who neglected to include the hyphen in "Spider-Man." (Sorry, that's one of my pet peeves. But I digress…)
First, to say that studios usually frown upon letting their characters appear in competing studios' films just might qualify as the understatement of the decade. These sort of crossovers are more rare than DC vs. Marvel brawls because in Hollywood, if a character appears in your movie, that usually means you own it.
Want to know why studios tend to cram in a bunch of new characters in the second or third films in a franchise? That's because the studio wants to establish ownership of that character, just in case they want to bring it back for a sequel or spin-off movie. Combining characters from different studios in the same film muddies the legal waters, and if there's anything that a studio doesn't want, it's a legitimate legal challenge to one of their big revenue generators.
The aforementioned scenario is the reason a Wolverine cameo in "X-Men: First Class" was possible (Fox owns the rights to the X-Men and Wolverine), and why we're more likely to see a cameo from Ghost Rider in "The Amazing Spider-Man" (Sony owns the movie rights to both characters) than a cameo from Spider-Man in "The Avengers."
Beyond the legal reasons why a Spidey cameo is so unlikely, there's also the logistical and narrative problems to consider.
In the world of "Avengers," superheroes are a new development and so are the superhuman threats they face. While it's true that Spider-Man's comic book history was retroactively padded out to include connections between his parents and S.H.I.E.L.D., an appearance by Spider-Man in "The Avengers" would necessitate the super-team's awareness of every threat Spidey faced.
For example, now that we know The Lizard will be the villain in "The Amazing Spider-Man," a crossover between Peter Parker's universe and that of the Avengers will have everyone asking why Iron Man, Captain America, and the rest of the team didn't bother to help out when a massive reptile terrorized a New York high school. And what about the Avengers' foes? Are we to believe Peter Parker just sat back and let Nick Fury's team handle every crisis when people were dying?
In previous Marvel movies, we've seen nods to the events occurring in other films that are part of the company's cinematic universe, so the decision to suddenly cram Spider-Man into the Marvel movie-verse would likely seem out of place to anyone who's been following along through the previous films. Sure, many sites are saying that the promotional opportunities for "The Amazing Spider-Man" that come with a cameo in "The Avengers" and the merchandising benefit to Disney make it a win-win scenario for both studios, but the fact remains that such a crossover could be a narrative nightmare for both films.
In the end, you have to ask yourself: do you think "The Avengers" director Joss Whedon would jeopardize his film for the sake of a cameo? And would Sony risk its own ownership of Spider-Man and the "back to basics" vibe of its film for the same?
I'm guessing they won't — but hey, anything's possible in comics and Hollywood these days.
Do you think a Spider-Man cameo in "The Avengers" is possible? Chime in below or on Facebook or Twitter.