Stars come out for a good cause at Seth Rogen's Hilarity for Charity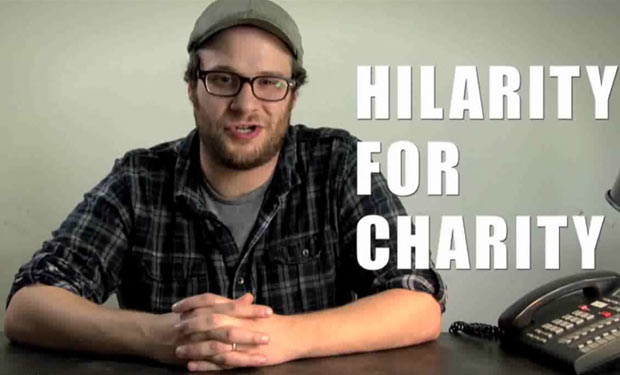 Posted by Terri Schwartz on
Seth Rogen might be prepping to host the upcoming Spirit Awards and direct his first film, "The Apocalypse," but he put both those projects on hold Friday for a cause close to his heart. The "Green Hornet" star has been working hard with his wife Lauren Miller over the past few months to put on their first charity benefit. Called Hilarity for Charity, the event was created to raise money to promote Alzheimer's awareness in the younger generation.
It's a cause both Rogen and Miller care passionately about, as Miller's mother was diagnosed with early-onset Alzheimer's at age 55. They enlisted the help of some of their friends to bring together a fun night of comedy and music, and kicked off the first annual Hilarity for Charity event at Vibiana in Los Angeles on January 13.
"It's been a long time in the making and it's exciting to do it, to see how it all turns out. I've actually hosted [charity events] before but this our first time putting one on ourselves," Rogen told IFC on the green carpet before the benefit kicked off. "Definitely it was a lot of work, but we did it, and I think it's going to be really fun. It seems like it's going to be really fun."
Everyone from Paul Rudd and Judd Apatow to DJ Pauly D and Bryan Cranston showed up to participate. Musical guests including Bruno Mars, Tenacious D and Wavves took part in the night, while Patton Oswalt, Aziz Ansari, Brian Posehn and Ty Burell all shared their particular brands of comedy.
"Everyone just was like, who would it be cool to hear? And people just kind of randomly threw out ideas and it gives you a very eclectic night, but to me that's cool," Rogen said. Miller added, "We called in every favor we could."
Many of those in attendance have experienced the affects of Alzheimer's personally. "Jersey Shore" star Pauly D was there to DJ the night, but also said that this was a cause that he thinks it's important more people are aware of.
"It feels good to be able to do something like this, to do what I love to do for a good cause," he said. "I want to bring awareness. Sometimes people don't know it's not only for elderly, it's for everyone. It affects not only the people that are affected by it, but it also affects their friends and family."
His grandmother was diagnosed with Alzheimer's at age 73, and has since passed away.
NFL wide receiver Terrell Owens has been an advocate for Alzheimer's awareness since 1996. He showed up to the event not because he was a friend of Rogen's but because he felt that this is a cause that deserves to reach a wider audience. Owens found out Rogen was hosting the benefit soon after he suffered a loss of a family member due to Alzheimer's and then decided to come give his support.
"My grandmother just passed last Tuesday because of that, and I've just come back from the funeral on Monday, so this is definitely somewhat of an emotional time for me," Owens said, adding that he'd never before met Rogen. "I've always told the people that I've met and associated myself with with Alzheimer's that I'm going to be supportive from here on out."
Anyone who knows the slightest bit about "One Tree Hill" star Sophia Bush is aware that she's an avid supporter of a variety of charities. In fact, she recently beat out Rogen in a Firefox-hosted CrowdRise contest to see who could raise the most money for their charity of choice. Bush won an additional $25,000 towards her selection, F Cancer, while another $5,000 went to the rest of the competitors. To Bush, everyone involved in the contest was a winner.
"I think it's really wonderful to have had the opportunity and we owe Firefox a big thank you, but also it's a really nice thing when you can get a bunch of people together to do something really good for the world," she said. "I think Hollywood could use more of it."
For Miller, Hilarity for Charity was an attempt to reach an audience that might not be as knowledgeable about Azheimer's as they should be.
"Alzheimer's is kind of viewed as an old person's disease and really, we can't think of it that way. It's a huge disease; an epidemic that we're facing and we have to do something about it now in order to not worry about it later," Miller said. "So we just feel like it was a great way to sort of bring attention to people among our generation."
Would you be interested in attending Hilarity for Charity in the future? Tell us in the comments section below or on Facebook and Twitter.