Serkis Circus: Performance capture and the Oscars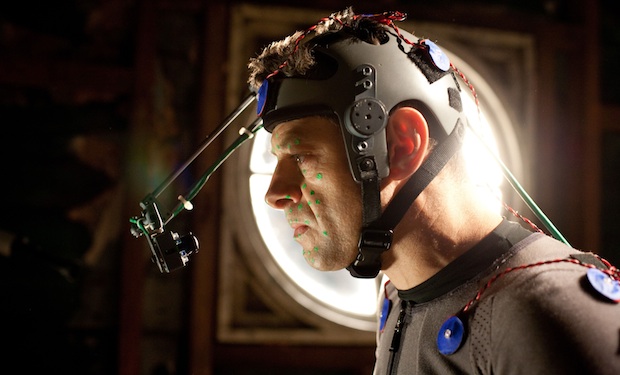 Posted by Matt Singer on
The Oscar nominations are just one week away, and the studios are promoting their wares right down to the wire. One of the biggest online campaigns this week has come on behalf of Andy Serkis, the performance capture wizard who portrayed the hyper-intelligent ape Caesar in "Rise of the Planet of the Apes." Fox is pushing Serkis as a Best Supporting Actor candidate with industry screenings and Q&As and promotional videos that compare Serkis' live performance on set with the finished product. Serkis' co-star (and last year's Oscar co-host) James Franco even chimed in with a piece, originally published on Deadline, advocating on behalf of his co-star.
If any performance capture to date deserved an Oscar nomination, it's Serkis' in "Rise of the Planet of the Apes." The character of Caesar is about as fully realized, visually and emotionally, as any digital movie creation has ever been. I don't know anyone who would dispute that Serkis' work as a performance capture artist — in films like "King Kong," "The Adventures of Tintin," and "The Lord of the Rings" trilogy — is the best in the industry. To me the question isn't so much "Does Serkis' deserves an Oscar?" as "Does any motion captured performance deserve an Oscar?" Is that really and truly acting?
Franco claims that it is. In his piece on Deadline, Franco compares the art of performance capture to prosthetic makeup. Here's what he says:
"In acting school I was taught to work off my co-stars, not to act but react and that was how I would achieve unexpected results, not by planning a performance, but by allowing it to arise from the dynamic between actors, and on 'Rise of the Planet of the Apes' that's exactly what I was able to do opposite Andy as Caesar. And Andy got to do the same because every gesture, every facial expression, every sound he made was captured, his performance was captured.  Then, what the Weta effects team did was to essentially 'paint' the look of Caesar over Andy's performance.  This is not animation as much as it's digital  'make-up.'  There are plenty of Oscar winning performances that depended on prosthetic make-up to help create the characters."
As an example, Franco cites the performance of John Hurt as the title character in "The Elephant Man," which was nominated for a Best Actor Academy Award in 1981. In a public Q&A hosted by and reported on by HitFix's Gregory Ellwood, Serkis made a similar argument, asking "Is there any less acting than John Hurt's performance as 'The Elephant Man' who was completely unrecognizable or any kind of performance captured role where the actor is altered?"
There might not be less acting, but there's still a clear difference between Serkis' Caesar and Hurt's John Merrick. When I see Hurt as Merrick in "The Elephant Man," I'm still looking at Hurt. He's buried beneath a mountain of Christopher Tucker's incredible makeup, but he's still there. When I see Serkis as Caesar, I'm not really looking at Serkis. I'm looking at Serkis' movements and expressions as recorded and interpolated by computers and then tweaked and refined by animators. Hurt's performance on set was his performance. Serkis' performance on set was just one ingredient — the key ingredient, but one ingredient nonetheless — of his performance.
The counter-argument here is that digital effects, most of which go completely undetected by our untrained eyes, are constantly used to enhance performances. Directors like David Fincher are such technical wizards they can splice together an actor's best moments from different takes into one seamless shot, or make Brad Pitt look like a 100-year-old baby, or graft the performance from one actor's face onto the performance of another actor's body. These special effects look so good, we sometimes forget we're seeing special effects at all (until, of course, someone makes a promo real highlighting their work around Oscar time). Is that great acting? Or is that great technical wizardry? The answer, I suspect, lies somewhere in the middle.
See what you think. Here is the video from HitFix's report on the "Rise of the Planet of the Apes" screening. You'll see the scene first with Serkis' on-set performance as Caesar, followed by the finished scene with the digital Caesar in his place.
video player loading
.
.
.
Honestly, looking at that clip makes me think it's Franco, Freida Pinto, and Brian Cox who deserve Oscar nominations, not Serkis. They're the ones who had to act opposite a man dressed like a futuristic custodian while he grunted like the ape. Doing that without cracking a smile — that's a real acting challenge.
But seriously: the video does show how integral Serkis was to Caesar's performance and to his co-stars' performances (just a few years ago, motion capture was done entirely on green screen stages). But I don't know that it conclusively proves that Serkis is Caesar in the way that Hurt is Merrick. The layer I'd really like to see, the one that would probably shed even more light on who did what, would be an earlier pass of the effects that shows a Caesar drawn purely from Serkis' performance captured data, without any of Weta's post-production sweetening. That would give us a better sense of how far from the finished product Serkis' contribution really is.
Without that, I'm still left feeling like Caesar is the work of many people rather than one (admittedly remarkable) performer. Recognizing Serkis' acting by itself feels a bit like a slight on all the technicians who turned that wacky looking futuristic custodian into the leader of the ape revolution. Does Serkis deserve an Oscar nomination for "Rise of the Planet of the Apes?" As a member of the visual effects team, absolutely. As an actor, I'm still on the fence.
Do you think Andy Serkis deserves an Oscar nomination for "Rise of the Planet of the Apes?" Tell us your thoughts in the comments below or write to us on Facebook and Twitter.