Ricky Gervais comes back swinging at 2012 Golden Globes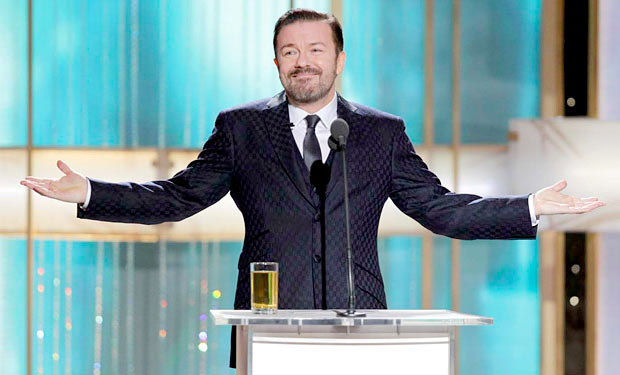 Posted by Brian Jacks on
One year ago, the Golden Globes hosting duties of funnyman Ricky Gervais supposedly caused such a celebrity outcry that the Hollywood Foreign Press Assocation (who run the annual gala) forever banned the comedian from the show. But then he wasn't. Then he was. And then he wasn't again.
Whatever actually happened, the onset of the 2012 show has proved one thing: the controversy has done nothing to subdue him.
In a sprawling monologue, Gervais launched into digs at NBC, the HFPA, Jodie Foster, Helen Mirren and more. "You get Britain's biggest comedian, hosting the world's second biggest awards show, on America's third-biggest network," Gervais joked, before correcting himself with, "It's four, it's four."
A second swip was later taken at his bosses, stating the "Golden Globes are just like the Oscars, but without all that esteem." Later in his act, he also compared the HPFA to the crime-riddled ranks of the "Boardwalk Empire" immigrants. "I'm joking," he said. "I love them. They do a lot for charity and they're a non-profit organization. Just like NBC."
Gervais expectantly turned his focus on the room's inhabitants, beginning with jokes about Jodie Foster's "Beaver" (a bit heavy on the subtext), and joking that the cast of "Bridesmaids" studied up for their hard-partying ways by spending time with Helen Mirren.
Even those who weren't in attendance found themselves at Gervais' mercy. "Justin Bieber nearly had to take a paternity test," Gervais quipped. "What a waste of a paternity test that would've been. The only way Justin Bieber could get a girl pregnant is with one of Martha Stewart's old turkey basters." And on Eddie Murphy and Adam Sandler: joking that the duo portrayed every role in "The Help."
One obvious difference between the 2011 and 2012 shows is the omission of Gervais introducing presenters, which allowed him more mic-time to take his shots. Without that additional platform, this year the comedian assuredly made every second count.
Grade Ricky's performance in the comments below, or on Facebook or Twitter.