The "Red Tails" cast name their favorite war movies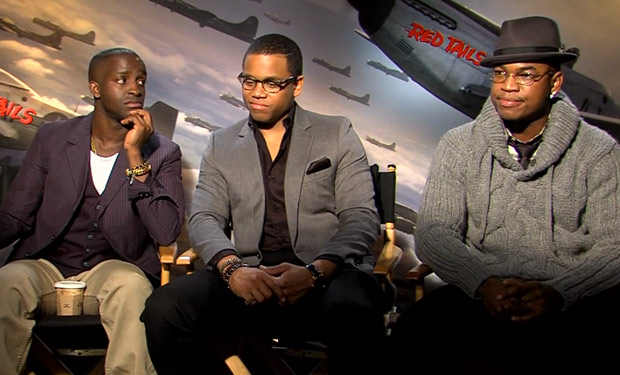 Posted by Rick Marshall on
This weekend, movie audiences will finally get a peek at "Red Tails," George Lucas' long awaited film about the U.S. armed forces' first team of African-American pilots.
When IFC sat down with the cast of "Red Tails" to discuss the movie, the conversation naturally turned to war movies of the past, and how this one compares with its predecessors. We also asked the "Red Tails" actors which war movies they count among their personal favorites — and in some cases, the answers will surprise you.
video player loading
.
.
.
"'Saving Private Ryan' might be one of my favorites," said Cuba Gooding Jr., who plays Major Emanuelle Stance in "Red Tails." "Just the visual opening battle sequence was something I had never… you say seen, but [it's something I] never experienced before in my entire life. That was just monumental to me."
British actor David Oyelowo, who plays Joe "Lightning" Little in "Red Tails," one of the team's best pilots, quickly name-checked a favorite of his home country, 1969's "Battle of Britain."
"'Battle of Britain' is a favorite of mine, for obvious reasons," he smiled.
"That's interesting," interjected Oyelowo's co-star, Terrence Howard, who plays Colonel A.J. Bullard in the film. Howard went on to say that original Tuskegee Airmen pilot Roscoe Brown, who consulted on "Red Tails," described "Battle of Britain" as one of the most accurate portrayals of air-to-air combat during World War II.
For Howard, however, "Tombstone" ranks as his favorite war movie of all time — an interesting choice, for sure.
As for the rest of the "Red Tails" cast, musician-turned-actor Ne-Yo named Stanley Kubrick's 1987 classic "Full Metal Jacket" as his favorite war movie, and co-star Tristan Wilds echoed his choice and added another.
"Oh, yes, I'll take ['Full Metal Jacket'] as well," he said. "And 'Saving Private Ryan.'"
Given all of those responses, the question now becomes: Will anyone list "Red Tails" as their favorite war movie in the coming years? We'll probably know after this weekend.
What are some of your favorite war movies? Chime in below or on Facebook or Twitter.