"Prometheus" international poster reveals more details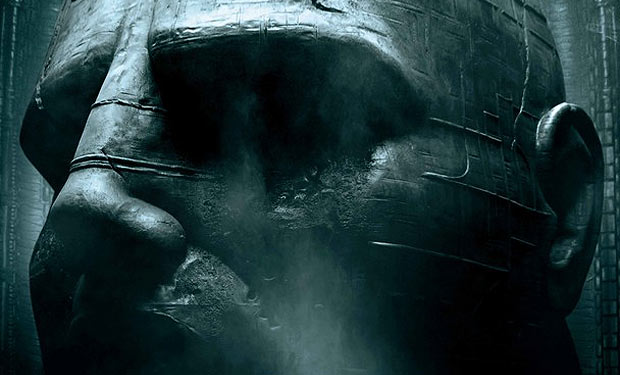 Posted by Will Weinand on
It's no secret that we're more than a little excited about the upcoming Ridley Scott film "Prometheus." Aside from marking the director's return to science fiction, the presence of an amazing cast and the already riveting glimpses we've had from the film, this may be the movie that uncovers the mystery behind the the entire "Alien" franchise.
And in the spirit of revealing, the release of the international poster for "Prometheus" gives a more detailed look at the giant head statue that was covered in shadows in the original US release. You can compare the two at the bottom of this post.
While the poster does a nice job of pulling the curtain back a little more on one of the mystery artifacts of "Prometheus," we already have two great looks at the room featuring the statue and the carefully arranged canisters from the trailer.
And we've seen a giant, bald alien in the cockpit that looks exactly like the one where Ripley, Dallas and Kane found the dead space jockey in the first "Alien" film.
Also interesting to note in the international poster is the design of the walls, especially when compared to the egg chamber that Kane (John Hurt) descended in to.
While "Prometheus" may not be an "Alien" prequel in the sense that it won't have the titular xenomorph that ran amuck for another 3 films and two "Predator" crossovers, it may be the film that solves the mysteries of why the ship was crashed on LV-246, how the pilot got infected, why he was carrying such deadly cargo, where that cargo came from and if there was something even worse on board. It might also solve why every time the corporation hears that something horrible is ravaging its employees, their first imperative is to save the thing instead of the employees.
Prometheus is directed by Ridley Scott and stars Noomi Rapace, Michael Fassbender, Charlize Theron and Idris Elba. It will be released June 8, 2012.
What's your theory about the mystery behind "Prometheus"? Tell us in the comments below or on Facebook or Twitter.