New "Prometheus," "The Avengers," "The Hobbit" pictures hit the web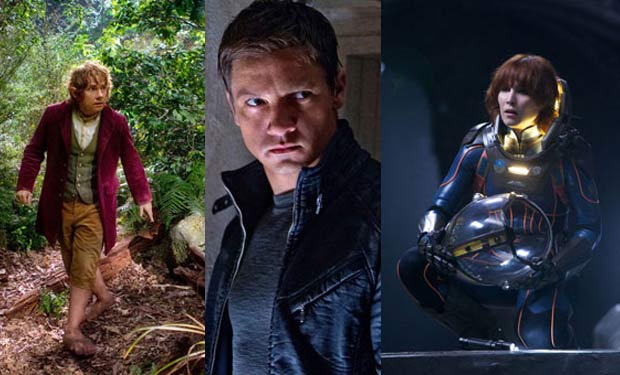 Posted by Terri Schwartz on
Today you can thank USA Today for officially getting you stoked for the film slate in 2012. The newspaper got their hands on a ton of new stills from some of the 12 movies they think fans should be most excited for in the new year. Fortunately, we couldn't agree with them more.
Arguably the coolest picture is for "The Bourne Legacy," which offers a first look at Jeremy Renner as Aaron Cross in the continuation of Matt Damon's "Bourne" trilogy. Other than looking angry and severe in the image, there's not too much we can gather from it about the movie. Still, we're glad just to have something to start hyping the film's August 3 release date.
The media gallery also includes new images for "The Avengers," "Prometheus," "The Hobbit," "Snow White and the Huntsman" and "Brave." The "Prometheus" one offers a clear look at Noomi Rapace in the film. And just was is it that she's holding in her hand?
"The Avengers" image is a variation on the many shots we've seen of Captain American and Thor released over the past few months. The superhero duo are in the middle of a big battle in New York City, though we can't help but wonder where Iron Man and Hulk are during all of this.
Rounding out the big new releases, "The Hobbit" still features Martin Freeman looking, well, like a hobbit. His hairy feet and pointed ears might not be the most flattering aspects of his new look, but at least we can give him props for his sense of style. Seriously, can it be December 14 already? The next 11 months can't fly by fast enough.
The still from "Snow White and the Huntsman" continues to showcase Charlize Theron as the real reason to be excited for this film. She looks fantastically evil here on her throne as the appropriately titled Evil Queen. And the "Brave" image is similar to the shot we've seen in the trailer of Merida and her family discussing some of their favorite Scottish legends.
Which of these new pictures is your favorite? Tell us in the comments section below or on Facebook and Twitter.