Exclusive premiere: Danger Mouse & Daniele Luppi "Season's Trees"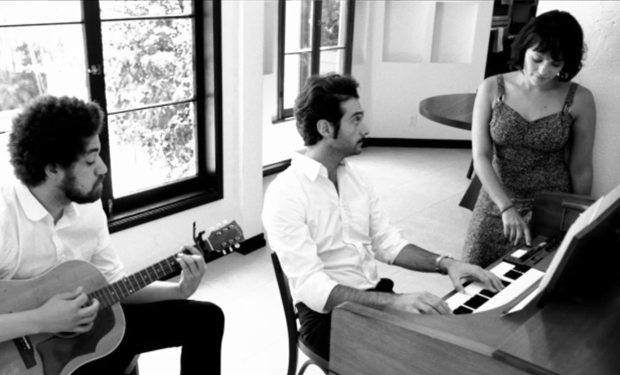 Posted by Brandon Kim on
If you thought you heard an inkling of Ennio Morricone in Gnarls Barkley's "Crazy," you weren't the only one, this muse had clearly been in Brian Burton's ear a long time. When Burton, a.k.a. Danger Mouse, and Italian composer Daniele Luppi got serious about their Spaghetti Western inspired "Rome" album, they went to Morricone's studio in Rome to record it.  Their backing musicians were old players who actually played on classic Morricone soundtracks like  "Fistful of Dollars" and "The Good, The Bad & The Ugly." And of course, every track was laid down in analog with vintage instruments. The result in large part, is an album that sounds as if it might have been made in the late 1960's, even on the six tracks sung by Jack White and the talented Norah Jones.
"I really love the way her voice sounds," Burton said of asking Jones to sing three tracks on the record, "I knew this was a little bit different for her, but she was really up for it." Jones sings vocals on three tracks, including "Season's Trees," for which we have an intimate live session, complete with the most adorable button pusher ever seen, shot by director Chris Milk.
"It was sort of an experiment in raw minimalism," Milk explained. "There was really no crew, just myself and audio engineer Todd Monfalcone recording the live sound."  It was the first time that Burton and Luppi sat down in earnest to perform songs from the album live with Jones.  "Norah had no hair, make up, or wardrobe people.  She still looks completely radiant.  There is an intimacy and life within the clips that is sometimes difficult to capture with a crew of 100, lip-syncing, wind machines, and everything else I've certainly indulged in. What you see and hear is basically all there was.  Three very talented musicians playing together in a room."
video player loading
.
.
.
Have you seen Danger Mouse's "3 Dreams of Black" interactive video too? Let us know in the comments below or on Twitter or Facebook!