Oscars 2012: The lauded films that got the Academy's cold-shoulder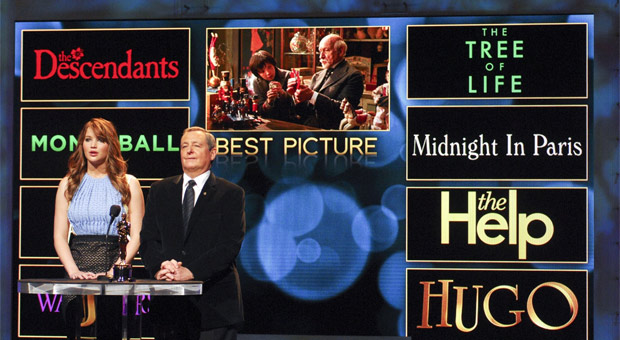 Posted by Terri Schwartz on
If you were looking for an upset at this year's Academy Awards, you aren't going to find it in the nominee pool announced today. The nominations went out to the expected recipients — hey there, "The Artist," "The Descendants" and "Hugo" — while the Academy of Motion Picture Arts and Sciences opted to have only nine Best Picture nominees instead of adding a tenth dark horse.
Unfortunately, that meant a lot of well-deserving movies didn't make the cut. Indies didn't do too well this time around (sorry, "Martha Marcy May Marlene"), and neither did the movies that were both critical and box office successes (here's a tissue, "Harry Potter" and "The Muppets"). It seems that the films that could be fairly labeled awards season bait caught their prey, though they're well-deserving of the awards they received. But we wish that some of these other flicks could have received the recognition they deserved as well.
---
"Drive"
Ryan Gosling gave the best performance of his career in Nicholas Winding Refn's violent thriller, but didn't receive any recognition from the Academy for his efforts. We would have at least expected Albert Brooks to get a nod for Best Supporting Actor (I mean come on, that scene with Bryan Cranston towards the end!), but no cigar. "Drive's" only nomination was for Best Achievement in Sound Editing, which doesn't do too much to ease this snub.
---
"The Ides of March"
Speaking of Ryan Gosling snubs, where was the love for "The Ides of March"? The movie picked up Golden Globes noms for Picture, Director, Actor and Screenplay, but only got a Best Adapted Screenplay nod from the Academy. Sorry if you were looking for a second Best Director nod, George Clooney, but at least you were recognize for your work in "The Descendants." Between this, "Drive" and last year's "Blue Valentine," it seems safe to say that the Academy isn't the biggest Ryan Gosling fan. In fact, maybe they were the ones who voted for Bradley Cooper to be People's Sexiest Man this year, too.
---
"Shame"
It seems as though that NC-17 rating really was the mark of death for "Shame's" Oscar chances. Despite Michael Fassbender's well-regarded performance, he didn't pick up a nomination for Best Actor, and the movie was jilted with no nominations across the board. And, to us, that's a real shame. Yes, we went there.
---
"50/50"
"50/50" was the little indie that could this year. The feel-good cancer dramedy had earned Joseph Gordon-Levitt some Oscar buzz when it came out in September, as well as writer Will Reiser. But no luck, come nomination time. The film walked away from the Academy announcement empty-handed.
---
"The Adventures of Tintin"
The fact that "The Adventures of Tintin" didn't pick up a Best Animated film nomination after winning the Globe for it is probably the biggest shocker in today's nominations announcement. All we can think of is that the movie was submitted to be a Best Picture contender and didn't make the cut, but still it seems shocking that "Puss in Boots" was picked over this Steven Spielberg and Peter Jackson collaboration. At least Spielberg can take comfort in the fact "War Horse" got some serious love.
---
"Rise of the Planet of the Apes"
This movie was never going to be an easy sell. "Rise of the Planet of the Apes" got a nod for Best Visual Effects, but I personally was pulling for Andy Serkis to get some sort of acting recognition for his role as Caesar, even if it was as Best Supporting Actor. Matt Singer disagreed, but it seems unfair that Serkis repeatedly walk away unrecognized.
---
"Martha Marcy May Marlene"
Where was the love for this Sundance darling? Elizabeth Olsen broke out onto the scene early this year in an amazing performance, but the Academy opted instead to honor frontrunners like Michelle Williams and Viola Davis. We get it, and those actresses duly deserve their recognition, but it doesn't make us any happier about Olsen — and the movie's — snub.
---
"The Muppets"
First, let us preface this by saying that we are over the moon that "Man or Muppet" is nominated for Best Song. Thank goodness, there is some justice in the world. But that's all that "The Muppets" walked away with, and that seems unfair. The movie was almost universally critically beloved, and all that without any cynicism or guile. If this loses to "Rio" for Best Song, there really is no justice in the world.
---
"J. Edgar"
Honestly, we're sort of glad "J. Edgar" didn't make the cut. The movie is Oscar-bait through and through, down to Clint Eastwood directing, Dustin Lance Black writing and Leonardo DiCaprio starring in it. But DiCaprio gave a genuinely great performance, and was probably a more popular choice than Demian Bichir, Gary Oldman (who we're very pleased made the cut) and Jean Dujardin. Give DiCaprio his Oscar, already.
---
"Take Shelter"
This list seems overloaded with men who were snubbed the Best Actor nomination this Academy Awards, but this was a year that had plenty of great male performances. Michael Shannon's turn in "Take Shelter" was phenomenal and another Sundance darling, but the movie has walked away from the major awards show season completely empty handed.
---
"Warrior"
"Warrior" is probably the year's most underappreciated film, so we're thrilled that the Academy awarded Nick Nolte a Best Supporting Actor nomination. But the movie really should have landed a Best Original Screenplay nod as well, arguably over the surprise pick "Margin Call."
---
"Harry Potter and the Deathly Hallows: Part 2"
This was your last chance, Academy, and you blew it. "Harry Potter" is the top-grossing film franchise ever, and for good reason. While many of the "Potter" films are good not great, "Deathly Hallows: Part 2" was a surprisingly wonderful finale to the decade-long series. It also was the highest grossing movie and one of the most well-received movies of the year. It at least deserved a Best Picture nomination, if not a win. And the fact that Alan Rickman wasn't rewarded with a nomination for Best Supporting Actor is a real shame. If "Deathly Hallows: Part 2" walks away without winning any of its three technical nominations, the franchise will have never won a single Oscar.
Which movie do you think should have been nominated, but wasn't? Tell us in the comments section below or on Facebook and Twitter.