New "The Dark Knight Rises" images show Bane, Batman and Commissioner Gordon in action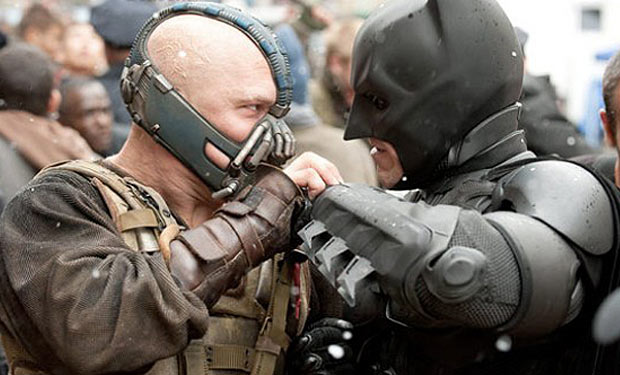 Posted by Terri Schwartz on
As "The Dark Knight Rises" is the cover story of this week's Entertainment Weekly, it comes as no surprise that the magazine has released several new photos to promote the upcoming movie.
One of the more provocative images features Bruce standing in front of the Bat-suit, giving us a glimpse of what is most likely the new bat-cave.
The images include a nice close-up shot of Bane alone, possibly from the same scene from the trailer when he's giving permission to someone off-screen (who is probably Batman) to die once Gotham is ashes.
Rounding out the major players in the war for Gotham, we get the Dark Knight with the cityscape behind him and Commissioner Gordon looking absolutely terrified.
And finally a close-up of Bane and Batman fighting up close and personal, giving us an official look at what was taking place in those fan shot set photos back in November.
But where are the rest of the characters? Sure, it could be argued that the reason the majority of the photos officially released only show these three characters (but mostly just Bane and Batman) is because the focus of the movie is on them. But you can't just go and cast Anne Hathaway as Catwoman, Joseph Gordon-Levitt as a police officer and Marion Cotillard as a Wayne Enterprises employee (or maybe more) without giving us anything more than brief glimpses in trailers and fan-posted pictures! Well, Christopher Nolan can, but it's still incredibly frustrating.
The release of "The Dark Knight Rises" is seven months away (July 20) so there's still plenty of time for more promotion of the film. And, to be honest, we like that there's some mystery surrounding the movie still intact. But it sort of feels like we've been seeing the same photos over and over again, and we'd like something new to get excited over in the flick. Even if it's just a shot of a regular like Alfred or Lucius Fox.
In his interview with EW, Nolan addressed the confusion over Tom Hardy's voice. As Bane, he was reportedly illegible during the six-minute prologue that was released, though a new rumor says that Warner Bros has set that straight.
"I think when people see the film, things will come into focus," Nolan said. "Bane is very complex and very interesting and when people see the finished film people will be very entertained by him."
Do you want to see some new "The Dark Knight Rises" images as well, or are you okay with these? Tell us in the comments section below or on Facebook and Twitter.