The most anticipated video games of 2012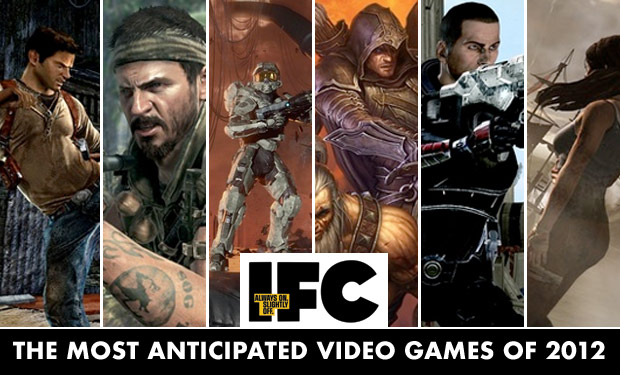 Posted by IFC on
By Russ Frushtick
The new year is finally upon us and, chances are, you're probably broke, thanks to one of the best gaming holiday seasons in recent memory. But it's time to start saving up once more, as 2012 will be a doozie of a gaming year, as well. We've collected our list of the most anticipated games coming out this year, presented here in no particular order.
---
Grand Theft Auto 5
As if there was any doubt we'd be getting another Grand Theft Auto game! Yes, Grand Theft Auto 5 is coming this year and, as with every installment of the franchise, it's sure to wow fans and horrify old people.
GTA 5 will return to the California-inspired state of San Andreas. The game's first trailer showed glimpses of the streets of Los Santos (read: Los Angeles) as well as some nature-ridden mountainous areas. It's hard to imagine that it could match the scope of GTA: San Andreas, which had three cities and seemingly hundreds of miles of explorable terrain, but then again, Rockstar has always been pretty good about meeting and besting expectations.
---
BioShock Infinite
Ken Levine and his team at Irrational Games are known for brilliant storytelling and unbelievable worlds. BioShock Infinite looks to offer both, abandoning the underwater city of Rapture in favor of Columbia, a city suspended by hot air balloons in the early 1900s.
Levine isn't spilling any details with regards to how Infinite will relate to the original BioShock (or if there's even any connection between the two), but Irrational has shown off some remarkable gameplay which sees players using roller coaster-like rails to zoom through the cloud-laden streets of Columbia. We'll likely be seeing more as the year progresses, but Irrational has always been good about keeping secrets (especially with regards to story twists), so expect them to be mum until the game releases later this year.
---
Diablo 3
Woo boy, this is a big one. Diablo 2 released way back in 2000 and continues to be one of the top selling PC games, thanks to its spot-on hack-and-slash gameplay and addicting, loot-heavy collection elements. But, come this year (we hope), it'll be dethroned by Diablo 3.
Diablo 3 brings the series into 3D, with fully modeled characters and environments. Returning classes, like the Barbarian, are joined by new ones like the Monk, known for his fists of fury, and the Witch Doctor, with the ability to raise the dead and shoot nasty poison from a blow gun. The game will also let players trade and purchase items with real-world cash, in case you don't have 60 hours to run the same dungeon over and over again.
---
Halo 4
When last we saw Master Chief, at the end of Halo 3, things were not looking very good. His ship had been cut in two and he was left floating in deep space. With no other options, he hopped into his favorite deep freeze machine and went sleepy bye.
The first trailer of Halo 4 sees him waking up as the ship is falling apart. Narrowing escaping disaster, he finds himself floating high above an alien planet. What's down there? Who knows! But we're sure to find out this holiday season. In addition to an epic story, Halo 4 will definitely have multiplayer of some sort. Because people like that sort of thing. Beyond that, we're completely in the dark.
---
Call of Duty: Black Ops 2
OK, this game has not officially been announced yet, but I'm willing to bet the contents of my fridge that this year's installment of Call of Duty will be Black Ops 2. It is, after all, being developed by Treyarch, the company behind the original Black Ops, which ended in a nifty cliffhanger.
Our guess? Black Ops 2 will stick to the same Vietnam-era timeframe, and will focus on conspiracy theories like the assassination of JFK, as well as that supposed "moon landing." And, seeing as how it's Treyarch, we're likely to see the return of everyone's favorite Zombies mode. Because zombies make everything better.