Michael Fassbender discusses "Prometheus" and Ridley Scott's "new world" with classic elements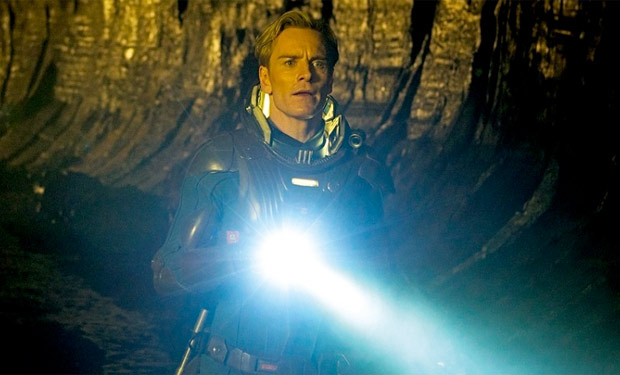 Posted by Brian Warmoth on
Ridley Scott surprised the world with a new breed of sci-fi thriller when his film "Alien" hatched in 1979. Scott's latest project "Prometheus" will drill a bit further into the "Alien"-verse, and although the movie will explore new story territory, actor Michael Fassbender praised his director's classic approach to building suspense.
"It's a slow burn," Fassbender told IFC. "There are again sort of action sequences in it of course, but they're there at the right time to serve the plot as opposed to just filling in another scene."
The 2012 Golden Globe nominee for his performance in "Shame" admitted that he was skeptical when he first found out about "Prometheus." He credited writer Damon Lindelof, though, for turning in a script that keeps its thrills simmering beneath the surface.
Fassbender did not use the word "prequel" when describing the relationship between "Prometheus" and "Alien," but he noted that Lindelof and Scott crafted a film that can stand on its own.
"That was the first thing that struck me when I read it," the actor explained. "I was like 'Oh, another Alien film', I was like 'Where are you really going to go?' and then you realize that it's not and the world we know and we've seen in the other Alien films…this is another world."
That new world will not forget its ties to established continuity, however, and Fassbender expects audiences to pick up on those cues. If the first "Prometheus" trailer was any indication, those cues will be plentiful, with the Space Jockey, his horse-shoe shaped spaceship and the Weyland-Yutani Coporation's logo all showing up onscreen.
"There are connecting veins and you will recognize things," Fassbender said, "but it's like wow this is a whole new world altogether."
"Prometheus" hits theaters on June 9, at which point its links to "Alien" will likely be made clear. Until then, Fassbender did offer assurance straight from the man responsible for infestation aboard the Nostromo more than 30 years ago.
"I haven't seen anything," he said, "but speaking to Ridley he seems to be really happy."