Michael Fassbender says fighting Gina Carano in "Haywire" is a freeing experience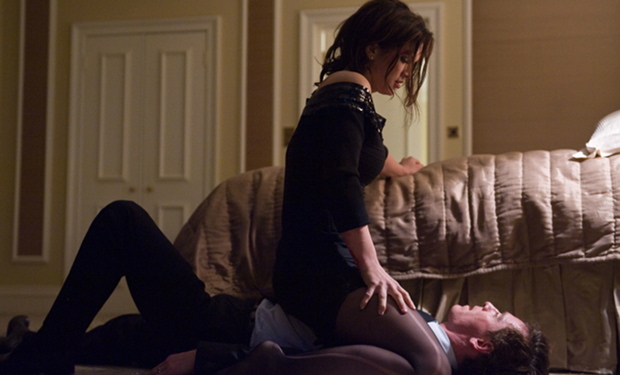 Posted by Rick Marshall on
"Haywire" hits theaters this weekend, bringing director Steven Soderbergh's vision for a hard-hitting action movie to life and marking the debut of professional fighter Gina Carano in a starring role.
Lauded for its unique approach to violent encounters, "Haywire" offers up one of its best brawls when Carano and co-star Michael Fassbender go toe-to-toe in a hotel room, beating each other senseless in a brutal sequence that showcases its star's formidable talent as a butt-kicking MMA specialist.
IFC had a chance to speak with Fassbender about the scene, which puts him up close and personal with Carano's fists, feet, and, well… other body parts.
"The thing is, I'm not going to hurt Gina, she's going to hurt me if it's going to be anyone that's going to go down," laughed Fassbender when we asked whether he approached the fight scene any differently knowing that he was facing a female partner.
"But what I did know was that I was working with a partner who was very physically adept," he continued. "She's got great control physically and obviously she knows her body very well. She's well-coordinated, so then you can actually go further than you might be able to do with somebody who's not as talented as her or as experienced as her as a fighter. It actually gives you more freedom, so the fact she was a girl didn't bother me, because I knew she could handle herself."
And as Carano proves time and time again throughout the film, handling herself in a fight is something she certainly can do — but Fassbender was quick to point out that there's still some movie magic when it comes to portraying any fights (even if they involve an MMA pro) to the screen.
"If I'm doing a scene like that, my aim and my goal and what I enjoy about doing fight sequences like that, is that there is a control element to it, but it looks out-of-control — and that's the fun part for me," he explained. "It's making it look as chaotic as possible, but it's actually in a very controlled environment."
"There has to be a level of focus and relaxation to it, and then like I say, it's kind of a dance," he added. "You don't want it to look choreographed. [You want it to look] somewhat stylish, but also very messy. That's what you're looking for; that's what makes it look so violent and vicious."
For Fassbender — and perhaps for Soderbergh, too — "Haywire" serves as a throwback to '60s and '70s spy films that walked the line between romance and danger at every turn. Leaving the motives of its characters uncertain until the very last moment is all part of the plan, as he sees it.
"I wanted to have this sort of thing between the two characters where you don't know whether they're going to end up in bed or not," he said. "That was the thing that I was sort of playing in the character — that there is a sort of sexual energy there, so you're not expecting it to go down the way it does."
"Haywire" hits theaters January 20, and stars Gina Carano, Channing Tatum, Michael Douglas, Ewan McGregor, Michael Fassbender, and Antonio Banderas. The film is directed by Steven Soderbergh.
What do you think of Steven Soderbergh's decision to use a real fighter in "Haywire"? Chime in below or on Facebook or Twitter.