"Men in Black 3" stills show Will Smith and Tommy Lee Jones in action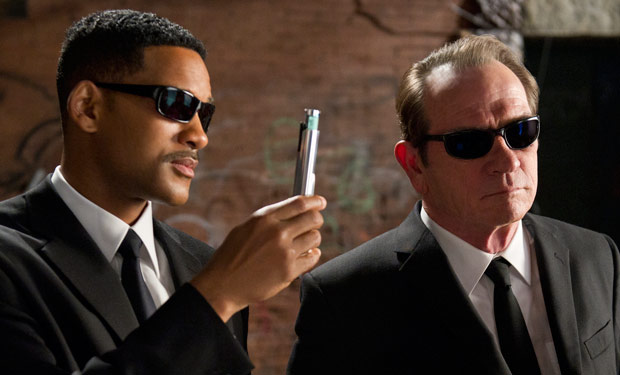 Posted by Terri Schwartz on
Josh Brolin may do a mean impression of him, but Tommy Lee Jones will always be the Agent K we hold close to our hearts.
Two new high-res images from the movie have been released, and instead of focusing on Brolin's new role as a younger K, the photos feature Jones in all his alien-subjugating glory alongside Will Smith's Agent J. Nostalgia, people, nostalgia.
This might be the third installment of the "Men in Black" saga, but it's going to be taking fans back in time. These stills don't do a great job of showcasing when "Men in Black 3" is about, i.e. J traveling back in time to save K and, virtually, the whole world. Still, it's nice to see Jones and Smith back in black, replete with shades, crazy guns and memory-erasing devices.
If you want a good taste of what the movie has in store, check out the trailer that was released last month. There's time travel and aliens and the aforementioned great Jones impression that Brolin does. Even if you aren't the biggest "Men in Black" fan, it's worth watching if only for the '90s nostalgia.
"Men in Black 3" also stars Bill Hader, Alice Eve, Emma Thompson and Jemaine Clement. It's due in theaters in 3D on May 25.
What did you think of these two new stills? Tell us in the comments section below or on Facebook and Twitter.