Ferris Bueller could use another day off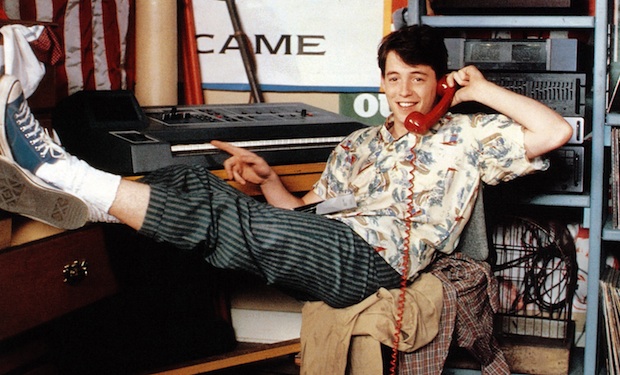 Posted by Matt Singer on
Life moves pretty fast. If you don't stop and look around once in a while, you could miss it. And then when you do finally stop and look around, your childhood idols are doing commercials for compact SUVs. And they're doing them as the rebellious character that made them your childhood idol. Life moves pretty fast all right, and it is freaking weird.
A week before it's scheduled to play during the Super Bowl, Honda premiered an extended cut of its "Matthew's Day Off" ad on YouTube. The 2:30 short, directed by "The Hangover"'s Todd Phillips, features actor Matthew Broderick riffing on his iconic character from 1986's "Ferris Bueller's Day Off."
http://www.youtube.com/watch?v=VhkDdayA4iA
Whether you like the ad or not, it's got the entire Internet talking about Honda and it's already been viewed over 1.8 million times on YouTube — a hefty number of eyeballs delivered at a fraction of the cost of a Super Bowl ad. It's also been posted and dissected on film sites all over the Internet (including this one, obviously). That's more free advertising. That's why, in my opinion, debating the quality of the ad is irrelevant. Whether you like it or not, it worked. That much is done with.
So it's a good ad. But is it a good sequel? Well, no. Broderick's on hand, along with that insidiously catchy theme song, but where's the rest of the cast? Without Alan Ruck moping around as Cameron, or Jeffrey Jones skulking through the Buellers' backyard as the scheming Principal Rooney, or Charlie Sheen proving his range as a doped-up delinquent, it's just not the same. You've got Ferris Bueller, but you don't have "Ferris Bueller" (you also don't have the man who wrote and directed "Ferris Bueller," since John Hughes tragically passed away in 2009). Not to mention that the CR-V, handsome vehicle though it might be, is no vintage Ferrari. Plus it doesn't even get dropped out of an austere, modern, and totally non-functional garage or anything.
In a way, though, I'm glad this commercial exists. When Honda leaked a ten second tease of "Matthew's Day Off," the Internet almost literally exploded (the tease has already been viewed more than 4.5 million times on YouTube). Sites posted breathless hypotheses (like this one) speculating as to the nature of Ferris' return. It turned out to be this ad (in which, let's note, the words "Ferris" or "Bueller" are not uttered a single time). But it could have been a sequel; a sequel that, apparently, many people would have been excited to see.

Hopefully this commercial, effective and clever though it might be, kills any notion that such a sequel would be a good idea. Ferris Bueller not only doesn't need a sequel, he couldn't bear one. I love the film so much myself I can understand the desire to find out where Ferris, Cameron, and Sloane wound up — or even to want to just hang out with them for one more day. But look at Matthew Broderick now. Slightly plump, slightly balding, talking with that slightly affected delivery he's used in every performance he's given since 1995. This guy isn't Ferris Bueller anymore. Ferris Bueller is a teenager; maybe the teenager, as far as the movies are concerned. To force him to age would sully the perfection of his magical (and, thanks to the movies, eternal) adolescence.
A sequel now would destroy the brilliant achievement of the first film. That's what invariably happens with any sequel set well after the original movie. The classic example is "Blues Brothers 2000." Eighteen years after the original movie, sixteen years after John Belushi's death, they dusted off Dan Aykroyd and the rest of the Blues Brothers band, threw a cutesy kid into the mix, and danced all over the memory of the first masterpiece. "Blues Brothers 2000" didn't "rape my childhood" or anything nonsensically hyperbolic like that. But it did take a little of the luster off the first movie. When you think about "Blues Brothers" you have to avoid thinking about "Blues Brothers 2000." I don't want to have to do that with "Ferris Bueller's Day Off."
Still not convinced? Take a look at the other "Ferris Bueller" project that was made without Hughes' involvement, the short-lived "Ferris Bueller" TV show. The ad is fine. But we should all let Ferris Bueller enjoy many days off — every day off until the end of time.
Do you still want to see a "Ferris Bueller" sequel? Even though we think you're crazy, we still want to hear why — tell us in the comments below or on Facebook and Twitter.