Mark Wahlberg: Great actor or greatest actor?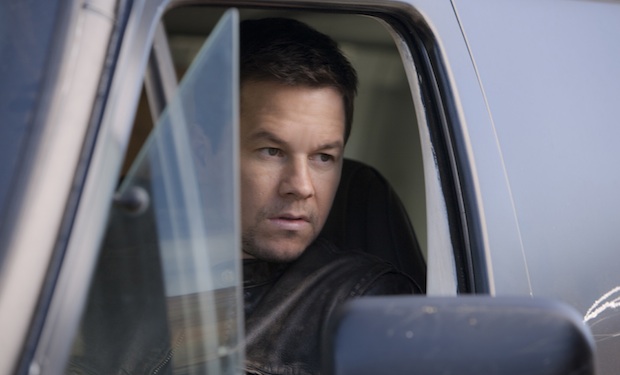 Posted by Matt Singer on
The week before he opens "Contraband" — a film that, based on empirical marketing evidence, is about a man who straps money to his torso so he can fight a goofy voiced crime boss — might not be the best time to extoll the acting chops of one Mark Wahlberg, but that's exactly what The New York Times' Adam Sternbergh has done in a provocative blog post entitled "Is Mark Wahlberg the Greatest Actor of His Generation?" Sternbergh's evidence:
"I took to Twitter to see if anyone could guess what exactly his Oscar nominations were for, and several of the subsequent guesses — an acting nod for 'Boogie Nights,' perhaps? Or for 'Three Kings?' Or 'The Fighter?' — were incorrect yet totally plausible. Then a pair of astute film critics, Dana Stevens of Slate and Wesley Morris of The Boston Globe, weighed in and suggested Wahlberg's best work may have been in David O. Russell's 'I Heart Huckabees,' a movie that's now perhaps best remembered for an incident on set. And the DealBook reporter Peter Lattman, among others, cast an additional vote for Wahlberg's overlooked work in the 2000 film 'The Yards.' This means that, by my count, Mark Wahlberg could legitimately have received up to six Oscar nominations for acting, to go along with that one he did get for producing, for a grand total of seven actual and theoretical nominations."
Sternbergh then goes on to compare Wahlberg's resume to four other more respected actors of his generation: Matt Damon, Leonardo DiCaprio, Paul Giamatti, and Phillip Seymour Hoffman. In Sternbergh's estimation, their actual and theoretical nomination totals (3, 3, 4, and 7) are all less than or equal to Wahlberg's. Sternbergh could have also observed that Wahlberg has also worked with all four of of these men — in "The Departed," "The Basketball Diaries," "Planet of the Apes," and "Boogie Nights" — another sign of his stature as a performer and as a mark of his good taste level, "Planet of the Apes" reboot notwithstanding.
Wahlberg has, in recent years, become a bit of a pop culture punchline — on a related topic, say hi to your mother for me — but I've always liked him as an actor. I was a bit too young, or at least a bit too out of touch with pop music in the early 1990s, to know him as Marky Mark. So my true introduction to Wahlberg came in "Boogie Nights" which bowed right when I was 17, the age when one's passion for movies is at its most irrationally heated. After that, I needed little additional evidence of Wahlberg's acting prowess. I don't debate Sternbergh's assessment of Wahlberg's skills or of the nominations he deserves, and even though I'm not the biggest fan of "I Heart Huckabee's" as a whole, it really might be Wahlberg's best and funniest performance. At a notch below nominatable, Wahlberg is also very good in "The Other Guys" with Will Ferrell, and he's even pretty sharp in "Date Night" too. Yes, I've seen "Date Night." I'm married — what was I supposed to do?
It doesn't seem fair to count Wahlberg's producing nomination for "The Fighter," but I probably wouldn't include Hoffman's performance in "The Savages" either, which brings the theoretical score back to 6-6. Even as a tie, it's a striking comparison and an impressive showing for Wahlberg.
My question, though, is are those four guys the only other contenders for the title of Greatest Actor of Their Generation? I wasn't so sure. I spent a little time on IMDb, looking for actors born within a ten year span of Wahlberg, five years before and five years after. That drummed up a few more names, but believe it or not, they all fell short of Wahlberg, too. Jamie Foxx won an Oscar for "Ray" and he was nominated for "Collateral" but after that and maybe — maybe — "Ali," there's a serious quality drop-off (although I think a case can be made for his hilarious supporting turn in last summer's "Horrible Bosses"). Mark Ruffalo received a nomination two years ago for "The Kids Are All Right" but even with "Zodiac," "You Can Count on Me," and "Margaret," he's still not close. Ditto Guy Pearce; who's inexplicably never been nominated for an Academy Award but deserves at least three noms in my book: "L.A. Confidential," "Memento" and "The Proposition." Wahlberg's "The Fighter" co-star Christian Bale gets us closer — he won for "The Fighter" and he was great in "American Psycho," "The Machinist," "Rescue Dawn" and especially "The Prestige." But that's still five to Wahlberg's six. Meaning Marky Mark and P-See-Hoff still stand unchallenged at the top of this arbitrary and admittedly meaningless pack.
Ah, but there is one actor who, in my opinion, gets to the six hypothetical nomination threshold. A man who is certainly less of a leading man than Wahlberg, but definitely a better villain. A man who's such a crazy good — or maybe just plain crazy — actor he turned his own life into a performance.
That man, of course, is Joaquin Phoenix.
Phoenix has received two Oscar nominations, for "Walk the Line" and "Gladiator." He was also great in a trio of films by director James Gray: "The Yards," "We Own the Night" (both with Wahlberg, interestingly) and "Two Lovers." And Phoenix was remarkable — and borderline certifiable — in "I'm Still Here," the "documentary" about the lost year of his life when he got fat, drunk, and high, all for the sake of a tiny movie directed by his brother-in-law that almost no one saw. It was reckless, it was dumb, it unquestionably sabotaged the release of "Two Lovers" (which was a much better movie), but it was also about as good a performance as any actor has ever given. After all, it's one thing to sell a role in a film. Phoenix sold a role in real life. That takes some serious skill.
The Gray films, "I'm Still Here" and his two actual Oscar nominations give Phoenix a theoretical total of six and put him in a tie with Wahlberg. Wahlberg has the additional nomination for producing "The Fighter," and as the producer of "Entourage" and "Boardwalk Empire," he's obviously a much savvier (not to mention saner) Hollywood player and mogul than Phoenix. But as an actor? It might be too close to call.
What do YOU think? Is Mark Wahlberg the best actor of his generation? And if he isn't, who is? Tell us in comments below or on Facebook and Twitter.