Kanye West talks live-action "The Jetsons" on Twitter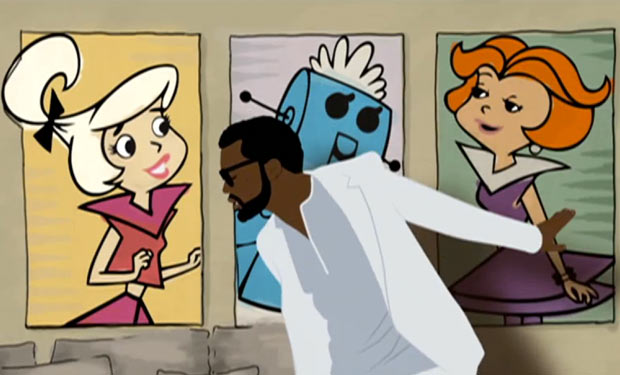 Posted by Terri Schwartz on
Why would Kanye West need a diary when he has Twitter? The rapper was apparently bored in London in the wee hours this morning when he went on a three-hour-long stream-of-consciousness Twitter rant discussing a range of topics from his new company DONDA to designing a sneaker called the YEEZY with Nike, and — literally — everything in between.
He put it best himself when he tweeted, "This is just a train of thought .. but figure it's better to read than trained thoughts."
With that as set up, it seems important to point out to movie-oriented people like ourselves that one of the tweets discusses West potentially becoming the creative director on the planned live-action "The Jetsons" movie. Last we heard of the project was that Adam Golberg had written a script and Robert Rodriguez was supposed to direct it, but that it got cast aside for Rodriguez to helm "Spy Kids 4."
It didn't sound like West was too thrilled by the whole "Jetsons" conversation though. We'll post the tweets straight from his account for you to interpret on your own.
"Being a celebrity has afforded me many opportunities but has also boxed me in creatively. I was just discussing becoming the creative director for the Jetson movie and someone on the call yelled out.. you should do a Jetsons tour!" he said. "This just happened a few hours ago. I was very insulted of course because for anyone that's seen the Watch the Throne Tour or Coachella or Glow in the Dark or Runaway.. you know I have real ideas…"
Any naysayers only have to look at West's Twitter account to know that he certainly does have ideas. But it's unclear whether this recent "The Jetsons" conversation will actually come to fruition, or if it was just a point West was trying to make. Either way, we hope that the film — if it does happen — is shown on his upcoming new seven screen experience.
Do you think West would be a good creative director for "The Jetsons" movie? Tell us in the comments section below or on Facebook and Twitter.