Judd Apatow on possibility of directing film starring daughters, debunks old "Sherlock Holmes" rumor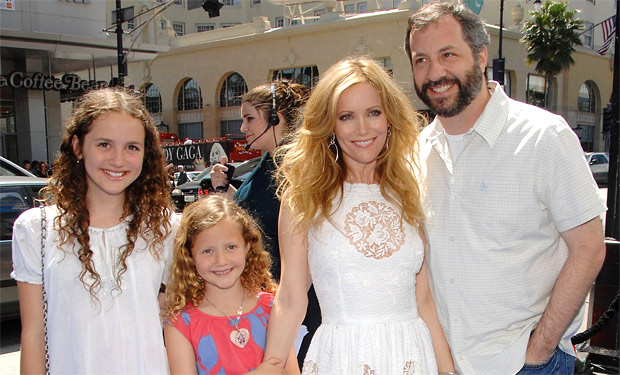 Posted by Terri Schwartz on
Judd Apatow might have seemingly created a family of comedians that he loves making films with, but he also loves to incorporate his family into his movies. His wife, Leslie Mann, has appeared in six projects he's worked on, while his two daughters, Maude and Iris, star in three out of the four films he's directed. In fact, Apatow recently told IFC that he chose bring those three back to reprise their roles in his "Knocked Up" sequel, "This Is 40," because they were the family he most liked in the movies he's created.
So as Maude, 14, and Iris, 9, get older, their involvement in their father's films begs the question whether or not he'd chose to one day make a movie for them to star in. Apatow said he's not ruling the idea out.
"You never know," he said in an interview Friday at Seth Rogen's Hilarity for Charity event, which raised money for the Alzheimer's Association. He added that it seems like a feasible option because "I don't like meeting new people."
One project that he definitely won't be working on any time soon is the rumored "Sherlock Holmes" movie starring Will Ferrell and Sacha Baron Cohen. It was first announced back in 2008, but details about the alleged collaboration have been scant ever since. Apatow explained that that's because the movie was never actually happening.
"That's always something that's out there that just isn't correct," he said. "If you think about it, it doesn't seem to make sense."
That may be true but, as we told him at the time, that's the reason we were intrigued by it. May we be the first to suggest a "Sherlock Holmes" reinvention with Maude and Iris as Sherlock and Watson, respectively? Who's with us?
Would you like to see a Judd Apatow movie with Maude and Iris at its center? Tell us in the comments section below or on Facebook or Twitter.