Viral "The Hunger Games" photo reveals a dazzling Effie Trinket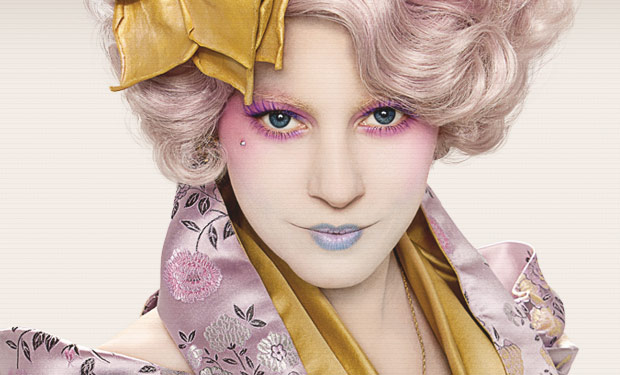 Posted by Terri Schwartz on
Let's just say that the previous images we've seen of Elizabeth Banks as Effie Trinket in "The Hunger Games" might not be the best representation of the fashionable character based on a new picture of her in costume. While the other shots have showed her looking clownish and ugly, the new picture actually has Banks looking stunning in her extravagant make-up.
The image comes courtesy of the viral website for "The Hunger Games," CapitolCouture.pn. The password for the site was recently revealed to be "#lookyourbest," and once used allows users to see the new shot of Banks as Effie Trinket.
In other "Hunger Games" news, MTV News recently sat down with the cast of the film to answer fans' questions about the project. While the topics ranges from on-set pranks to injuries to author Suzanne Collins, the most interesting segment is when Josh Hutcherson discusses the most difficult scene he had to shoot.
"The cave scene for me, where Katniss and Peeta are in the cave after Katniss has rescued Peeta more or less, was tough to shoot, also my favorite scene to shoot because we didn't have a lot of time," he said. "We had a lot of scene to get through and a lot of character arc to get through, so for me that was really fun but also a really big challenge."
Hutcherson also took the time to explain what the Hunger Games arena looks like, which is something we haven't seen in the promotional material yet.
"The arena is a giant. It's a forest, pretty much. We shot it in the mountains of North Carolina, just outside of Asheville, and it's pretty cool. The terrain we had to get through to get our cameras and equipment there was impressive that we even got it made in time. It looks amazing on film, too," he said.
"The Hunger Games" tells the story of Katniss Everdeen, a 16-year-old girl from the poor District 12 section of the futuristic country Panem who volunteers herself into the annual Hunger Games to take the place of her sister. In the Hunger Games, she must fight to the death against 23 of her peers on national television to win fame and fortune to her District. But Katniss only thinks about her survival and returning to her family, and that's what gives her the edge. "The Hunger Games" hits theaters on March 23, 2012.
What did you think of the new "Hunger Games" still? Tell us in the comments section below or on Facebook or Twitter.