New "Hunger Games" still showcases Woody Harrelson as Haymitch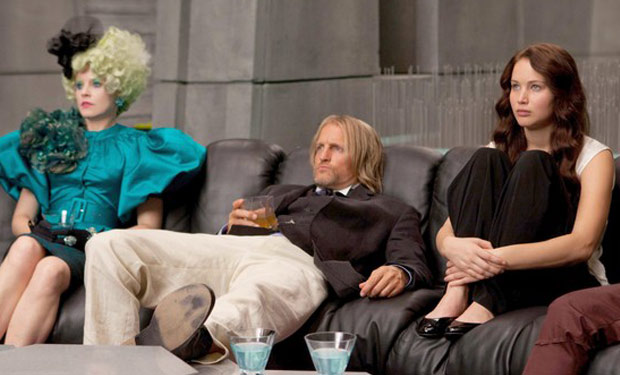 Posted by Terri Schwartz on
Another day, another new image from the upcoming "The Hunger Games" film. The latest still acts as an accompaniment to one that Lionsgate revealed last week, except this one showcases Katniss Everdeen, Effie Trinket and Haymitch.
The trio seems to be watching the recap of Katniss (Jennifer Lawrence) and Peeta's (Josh Hutcherson) introduction to the Capitol towards the beginning of the movie. The pants on the leg to Katniss's right match up with the outfit Peeta was wearing in last week's still. This shot takes place relatively early on in the film, and doesn't offer spoilers as much as a look at the characters we will soon meet. Case in point: check out the glass of booze in Haymitch's hand. So much for him not being an alcoholic.
In other Panem news, the film's sequel "Catching Fire" seems to have lined up its writer and director. TheWrap is reporting that "Slumdog Millionaire's" Simon Beaufoy is currently at work writing the screenplay for the project, while "The Hunger Games'" Gary Ross will return to helm the flick. It's not official until Lionsgate says it's official, but this news sounds pretty legit to us. "Catching Fire" isn't yet greenlit, but is set for theaters on November 22, 2013.
"The Hunger Games" tells the story of Katniss Everdeen, a 16-year-old girl from the poor District 12 section of the futuristic country Panem who volunteers herself into the annual Hunger Games to take the place of her sister. In the Hunger Games, she must fight to the death against 23 of her peers on national television to win fame and fortune to her District. But Katniss only thinks about her survival and returning to her family, and that's what gives her the edge. "The Hunger Games" hits theaters on March 23, 2012.
Are you glad Beaufoy and Ross will be working on "Catching Fire"? What do you think of this new image? Tell us in the comments section below or on Facebook and Twitter.