New "The Hunger Games" images show Woody Harrelson, Lenny Kravitz and more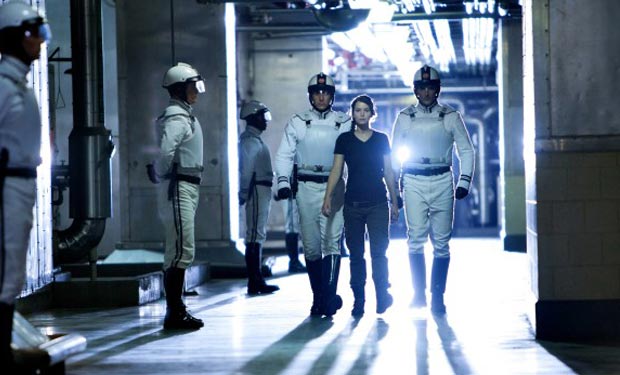 Posted by Terri Schwartz on
A new year, and new reasons to be excited for "The Hunger Games." Lionsgate has released some new stills and behind-the-scenes images from the upcoming film that give a good look at some new sequences that haven't been teased in previous promotions.
Definitely the most exciting of the new images is the shot of Cinna, Haymitch and Peeta preparing for the Hunger Games. Skeptics have criticized Woody Harrelson's hair as Haymitch, but we'd argue that this is the best shot we've seen of him yet. The wig doesn't look that bad, and he looks more disgruntled drunk than, well, whatever he was in the trailer. It's also always nice to see new images of Peeta and fan-favorite Cinna, especially since Lenny Kravitz is playing the latter.
The other main new still shows Katniss being walked through Capitol hallways before the Hunger Games begin. We're not sure whether this shot is before her training or right as she's about to enter the Games, but either way it shows a look at director Gary Ross's dystopian futuristic take on "The Hunger Games" that we haven't seen before. And we like it very much.
The other images, including shots of Katniss, Rue and Effie Trinket, have all been released before, but what are new are two behind-the-scenes stills showing Gary Ross directing and Jennifer Lawrence acting. They're nothing extraordinary, but any new "Hunger Games" news is good "Hunger Games" news for us.
"The Hunger Games" tells the story of Katniss Everdeen, a 16-year-old girl from the poor District 12 section of the futuristic country Panem who volunteers herself into the annual Hunger Games to take the place of her sister. In the Hunger Games, she must fight to the death against 23 of her peers on national television to win fame and fortune to her District. But Katniss only thinks about her survival and returning to her family, and that's what gives her the edge. "The Hunger Games" hits theaters on March 23, 2012.
What do you think of these new stills from "The Hunger Games"? Tell us in the comments section below or on Facebook and Twitter.