New "The Hobbit" still shows Bilbo surrounded by hungry dwarves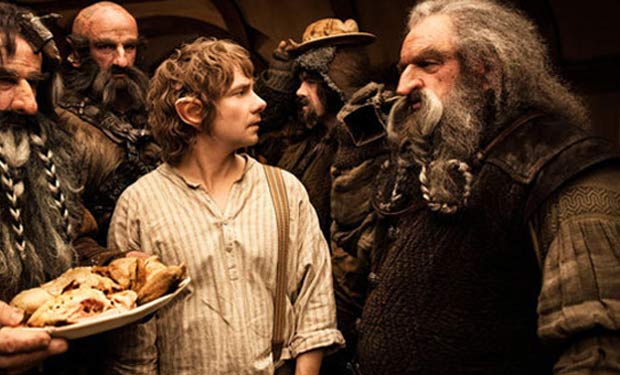 Posted by Terri Schwartz on
Bilbo is assembling for an unexpected journey in a new still from "The Hobbit." He is joined by an array of his dwarven companions and some tasty-looking chicken as they hang out in Bag End before they depart the Shire.
Clearly these dwarves are putting Bilbo ill at ease. His missing suspender, his untucked shirt and his general look of shock all lead us to believe he is a bit shocked to be surrounded by creatures he had only previously heard of. And he's probably surprised to discover that dwarves are apparently taller than hobbits. Maybe he just needs to drink some water in Fanghorn to gain those extra inches.
One character that's noticeably absent from this shot is Gandalf. In fact, we haven't seen too much of him in the promotional material. Gandalf accompanies the dwarves when they first meet Bilbo, though the wizard goes his separate way soon after.
This latest image comes courtesy of Yahoo! Movies and joins the company of the other two stills as being Bilbo-centric. A recently-released photo shows Bilbo looking stressed in Mirkwood Forest, while another one featured him wandering through the Shire. The film is still less than 11 months off, but we're ready to start getting a better look at the rest of the movie now that we've seen so much of Bilbo and the Dwarves. The spiders, anyone?
"The Hobbit: An Unexpected Journey" hits theaters on December 14. It stars Martin Freeman, Ian McKellan, Richard Armitage and Aidan Turner, among many, many others.
What do you think of this latest image from "The Hobbit"? Tell us in the comments section below or on Facebook and Twitter.