"The Hobbit" new still puts Martin Freeman in Mirkwood Forest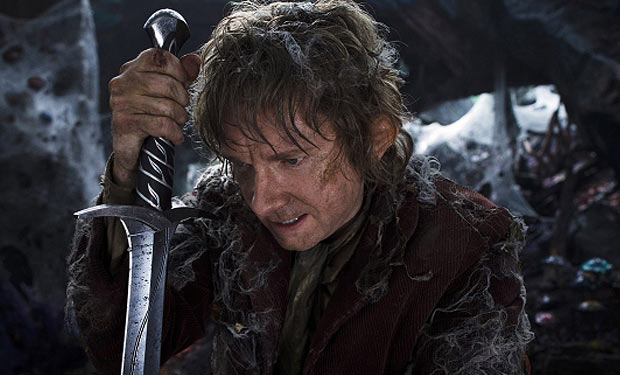 Posted by Terri Schwartz on
So far, the only proof we've had that "The Hobbit" films will include some serious bad-assery was the series of images released that introduced audiences to the series' battle-ready dwarves.
That's why the new image released by The Los Angeles Times is such a breath of fresh air. The previous images and trailer released tended to focus on the light-hearted, colorful, kid-friendly aspects of the story, while this new still switches gears. Seemingly taking place after Bilbo Baggins (Martin Freeman) has used his sword Sting for the first time in Mirkwood Forest, the photo is dark, dirty and gritty, just like elements of "The Hobbit."
"The story is very much a children's story so deciding how to tell this was one of the first things we had to do," co-writer and producer Philippa Boyens said in an interview with the Times. "It is very distinctly different, tonally, to 'Lord of the Rings' until the very end and then you begin to see the world of Middle-earth opening up."
Apparently the key to keeping the two separate in the minds of the viewers was focusing on what makes "The Hobbit" different from "The Lord of the Rings," instead of what makes them similar.
"We felt that it is the same audience [who will come to see the films] and then you start to worry because it is easy to repeat yourself. It is quite a similar journey, you're going from the Shire to a large, dangerous mountain," she said.
"The Hobbit: An Unexpected Journey" hits theaters on December 14. It stars Martin Freeman, Ian McKellan, Richard Armitage and Aidan Turner, among many, many others.
What do you think of the shift in tone in this new image? Tell us in the comments section below or on Facebook and Twitter.