"The Hammer Vault" brings you inside Britain's famous house of horror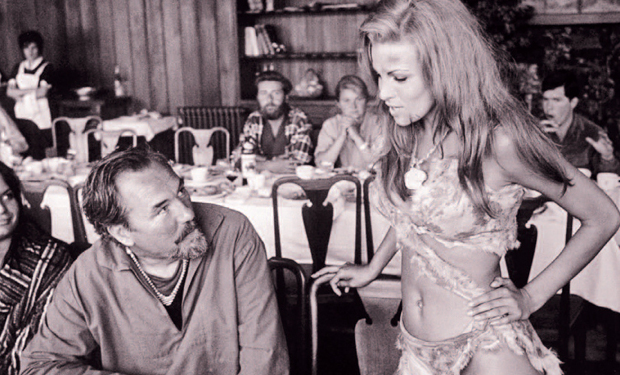 Posted by Rick Marshall on
Award-winning actors Christopher Lee and Peter Cushing are household names thanks to a long list of roles spanning the range of classic cinema. However, long before Cushing lent his talents to "Star Wars" or Lee joined the "Lord of the Rings," both actors became worldwide stars in a string of horror films produced by Britain's most famous studio, Hammer Films.
From "The Quatermass Xperiment" and "The Curse of Frankenstein" to last year's "Let Me In," the films to come out of the British studio kick-started the careers of some of Hollywood's biggest names, crossed oceans, and pushed the boundaries of the industry. That long history is charted in the recently released collection of Hammer Films archival material, The Hammer Vault.
Published by Titan Books, The Hammer Vault offers a chronological journey through the studio's 76-year history via original correspondence, photographs, promotional material, and other never-before-seen items from the studio's archives. The collection also features descriptions of each item penned by Hammer archive consultant Marcus Hearn, who offers some context for each photo, letter, or script's importance in the Hammer legacy.
IFC received an early look at The Hammer Vault, and spoke to Hearn about the collection, his work with Hammer, and the legacy of Britain's iconic house of horror. You can read the interview below, and get a look at some exclusive images from the new collection.
IFC: Hammer Films was making movies long before you and I were old enough to see one of their projects on the big screen. How did you get involved with the studio?
MARCUS HEARN: It started in 1994 when I worked at Marvel Comics. I was given the job of editing the official Hammer magazine, and that led to The Hammer Story, Hammer Glamour, The Art of Hammer and numerous DVD audio commentaries. I'm grateful that successive changes of management at Hammer have wanted me to stick around as a consultant.
IFC: What was your earliest memory of Hammer Films?
HEARN: I'm not old enough to have seen any of the older films at the cinema, so my education in Hammer horror came from late night television screenings. In England in the 1980s BBC2 would show double-bills that didn't just introduce me to Hammer horror but also classics like "The Bride of Frankenstein" and "Night of the Demon." It's now quite rare to see black-and-white films on network television and I think that's a great shame.
IFC: Looking at the posters and other promotional material in the book, there's a lot of art in there that simply wouldn't be allowed in today's market or might not have much success with today's audiences.
What was different about the period when Hammer realised that art made it so successful?
HEARN: Some of the pre-production artwork from the 1970s is very explicit, and is all the more surprising because it mixes sex with violence. We shouldn't lose sight of the fact that sexual violence was
considered inappropriate by censors in those days, just as it is now. Just because it appeared on pre-production artwork, such as "Hands of the Ripper," doesn't mean it was ever intended to be used on a finished poster. It was supposed to be attention-grabbing, and even shocking. But it wasn't necessarily for public consumption.
IFC: While working with all of the Hammer memorabilia over the years, what was the biggest surprise for you?
HEARN: It was a surprise to discover what a prolific and innovative publicity machine Hammer was from the 1950s onwards. The digital age has made it rather easier, and cheaper, to aggressively market films, but Hammer launched some remarkably extensive campaigns in the days when everything had to be printed. By no means all that material has survived, but there was an incredible array of material for us to choose from for The Hammer Vault.
IFC: Are there any pieces that have a particularly strange history?
HEARN: There were some items that I wanted to include but that unfortunately were no longer in the archive. The most intriguing of these was material relating to an exhibition held by the Blood Transfusion Service to coincide with the first screenings of "Dracula" in Birmingham in 1958. The exhibition was withdrawn after one week as it was considered to be in poor taste!
IFC: It's reasonable to assume that a lot of today's filmmakers have Hammer to thank for some of their early movie memories and the experiences that shaped their careers. Are there any particular films (or filmmakers) that come to mind as showing evidence of Hammer's legacy?
HEARN: Tim Burton has acknowledged the influence of Hammer on "Sweeney Todd," in particular, but I think it's in the DNA of many horror filmmakers. For example there's an episode of "True Blood" that features one of the characters watching "Dracula" on television. George Lucas isn't particularly a fan of horror films, but don't you think it's interesting that both Peter Cushing and Christopher Lee appeared in "Star Wars"?
IFC: What are some of your personal favorites from the Hammer archives?
HEARN: Recently I had the chance to photograph the props from the new film, "The Woman in Black," which is out in February. It's a disturbing film, and just being around some of the props made me feel a little uneasy. The book's deadline meant that we weren't able to include much about "The Woman in Black," but we've created a special online Vault entry on film. People who have purchased The Hammer Vault can access the "Woman in Black" section on www.hammerfilms.com.
The Hammer Vault is available now from Titan Books.
Do you have a Hammer Films memory? Chime in below or on Facebook or Twitter.