"Grabbers" – First impressions from the Sundance sci-fi hit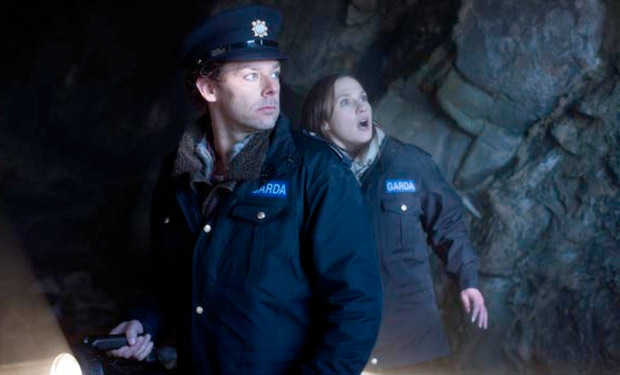 Posted by IFC on
By Jordan Hoffman
There are two things that always bring a smile to my eyes: murderous space aliens and drunken Irishmen. "Grabbers," a delightful little romp playing at this year's Sundance Film Festival, is surely the first movie ever to have both.
A streak of light shoots through the night sky which spells mysterious doom for a witnessing fishing boat. The next day, slashed whales appear on the beach of Erin Island, a tiny rock off the coast of Ireland. As it happens, it's the same day the police chief takes a vacation, so filling his shoes is a straitlaced woman named Garda (Officer) Nolan. All she really needs to do is keep an eye on things til the boss is back, something the town's well-meaning but frequently drunk second cop, O'Shea, probably couldn't handle on his own.
Elsewhere on the beach are what looks like giant pearls, but anyone who's ever seen a creature feature knows they are eggs. Soon, little slippery slugs with sharp teeth begin popping up, followed by bigger tentacled cuttlefish monsters until, finally, we meet a big-ass beast with a taste for blood.
But there's a twist and its one that pushes "Grabbers" into the category of a true original. The only one who survives an initial encounter with one of these creatures is the local drunk Paddy. Turns out that the one thing that these aliens can't abide is blood with a high alcohol content. Oh, the irony! Of all the places to plop down to from space and they had to pick Ireland!
With a big storm brewing and the town needing to bunker for the night, there's only one way to survive: drink. For the love of all that's green, drink.
There's a lot to love in "Grabbers." As is usually the case with stories set in Ireland, there are a host of wonderful side characters, as well as great moments of swearing and arguing. Unfortunately it takes a little while for Grabbers to get into a groove, but once it does there's no turning back. There are some missed opportunities in the film (I thought for sure once the jukebox accidentally came on and Garda Nolan had a nail gun we were ready for a full on Sam Raimi experience) but the action, while good, never achieves the level of mind-blowing.
The love story feels a wee bit forced, but you'll still be cheering when our drunken male lead and stuck-up female lead learn to accept/shirk a little responsibility and meet in the middle. You'll also leave the theater wishing you could head to the nearest Irish pub to sing "Whiskey In A Jar" and take a long sip on a pint of Guinness.
Will you be checking out "Grabbers"? Let us know in the comments below.