"Godzilla" roars onto Criterion Blu-ray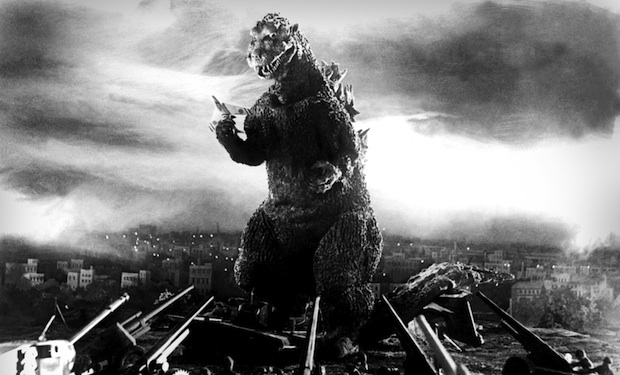 Posted by Matt Singer on
I don't know about you, but when I hear the name "Godzilla," certain images come to mind. I see a dude in a rubber lizard suit stomping around a Papier-mâché city. I see Japanese men and women pointing at the sky in terror while unaccented English springs awkwardly and unconvincingly from their lips. I see giant turtles and moths and three-headed flying dragons, all held aloft by visible strings. In other words: I see bad movies.
Godzilla has endured through fifty years of films, most of them — let's face it — terrible. Fun? Sure. Entertaining? Absolutely. Art? Mmmm, not so much. But what Godzilla became and what Godzilla was created as are two very different things. All those schlocky sequels have polluted our memories of the character, whose very first movie, made in 1954 by director Ishiro Honda, was quite different than the camp spectacles that came in its wake. Now that "Godzilla" is available on Criterion Blu-ray and DVD for the first time. It hits you in the gut with the impact of a 150-foot dinosaur.
Very little of what I imagine when hear the name "Godzilla" is present in Honda's movie. True, Godzilla himself is still a dude in a costume. But filmed in stark black and white cinematography rather than the murky, drab color stock of the later sequels, the creature takes on a surprisingly convincing ferocity. Criterion's Blu-ray presents the film sans dubbing, so you can appreciate the Japanese cast's terror without the impediment of horrific American voice actors. And in this earliest "Godzilla," there's no other giant creatures for our titular dino to fight. In fact, Honda puts more emphasis on what Godzilla represents than what he does.
If you're just interested in monster movie havoc, the big bust-'em-up finale will satisfy your craving. But Godzilla himself doesn't get a ton of screen time; most of his attacks are brief, and a few happen entirely off-camera. What we see instead are the people who bear the psychic and physical scars of his devastation. And since Godzilla's appearance is directly linked to underwater hydrogen bomb tests, we can link those psychic and physical scars to those suffered by the Japanese in World War II. Premiering less than a decade after the nuclear attacks on Hiroshima and Nagasaki, "Godzilla"'s images of a city burning in atomic flames bore a special significance. So too does the incident that starts the whole storyline (inspired, Criterion's Blu-ray tells us, by a real-life tragedy) in which a fishing boat is suddenly destroyed by an underwater explosion and a blinding flash of light. The intensity of the acting in this scene always upsets me. This isn't camp. This isn't Godzilla on Monster Island palling around with Godzuki. These are real people torn to shreds by a giant walking metaphor for nuclear power. This is perhaps the scariest horror movie of the atomic age.
Though the fundamental subtext of "Godzilla" couldn't be removed from the film, the overt references to H-bombs were considered too radioactive for American audiences. So when "Godzilla" premiered stateside in 1956 as "Godzilla: King of the Monsters," it arrived 15 minutes shorter than its Japanese counterpart and stripped of nearly every direct mention of atomic bombs. That wasn't the only concession for stateside tastes either. When "King of the Monsters" lost almost a quarter of its runtime it also gained a new hero: American journalist Steve Martin (the wild and crazy Raymond Burr), who stops off in Tokyo on his way to Cairo (from where?!?) just in time to witness Godzilla's rampage.
Looking to boost the picture's local appeal, "Godzilla"'s American distributors hired Burr for a couple of days and got filmmaker and editor Terry Morse to shoot him on sets designed to mimic the original Japanese locations, with body doubles subbing in for the Japanese cast. With the none-too-deft use of cutaways, Burr was inserted into the story. "King of the Monsters" was a monster hit in the United States in the 1950s — and it remained the way most Americans, myself included, saw "Godzilla" for decades. As a kid, the Burr "Godzilla" seemed like a prototypical badly dubbed schlock monster movie. Seeing it now, it looks more deranged than silly, like a film cut by aliens who'd been told what a movie was without having actually seen one themselves.
Though "King of the Monsters" was designed for the mainstream, it plays like an experimental film. The Japanese "Godzilla"'s straightforward narrative gets contorted and distorted to accomodate Burr's voiceover (and to eliminate the pesky atomic nightmare material). In perhaps the single worst example in movie history of telling rather than showing, Burr narrates almost everything: dialogue, character development, even some of Godzilla's attacks. Sometimes he even gets his facts wrong — he says that the sole survivor of Godzilla's fishing boat attacks died of his injuries, but that character shows up again a short time later on Odo Island. Throughout, Burr's voiceover and on camera demeanor are shockingly disinterested. The man is witnessing the rebirth of a creature that just spent a couple million years under the Pacific Ocean. You'd think he could at least feign surprise. As he watches Godzilla raze Tokyo, his face barely registers any emotion. Later, his good friend — the man he supposedly came to Japan to see — dies; Burr looks like he's stifling a yawn. Burr flattens "Godzilla"'s drama more effectively than Godzilla flattens Tokyo.
Burr's inexplicably disinterested performance reinforces his outsider status in the story, but it also forms the basis for the only case I think can be made for "Godzilla: King of the Monsters." Because Morse didn't have the budget to bring over Honda's Japanese cast, Burr's character couldn't really affect the narrative in any significant way. Hence he just stands on the sidelines and watches the action. That makes Steve Martin a bad hero and a weirdly appropriate protagonist for a movie about nuclear horror. Burr's impotence suggests humanity's impotence in the face of atomic weapons. Science gave us the power to destroy ourselves; all we can do now is bear witness to that destruction. On a textual level, Burr is a joke. On a subtextual level, his helplessness is absolutely perfect.
The new "Godzilla" Criterion is just about perfect as well. You get both versions of the film as well as two versions of Godzilla scholar David Kalat's commentary track, which are loaded with interesting details about both productions. The supplements include new interviews with actors Akira Takarada and Haruo Nakajima, a featurette on the special effects, and an essay by J. Hoberman. It's enough to make you think of something new the next time you hear the name "Godzilla."