George Lucas to retire from blockbuster filmmaking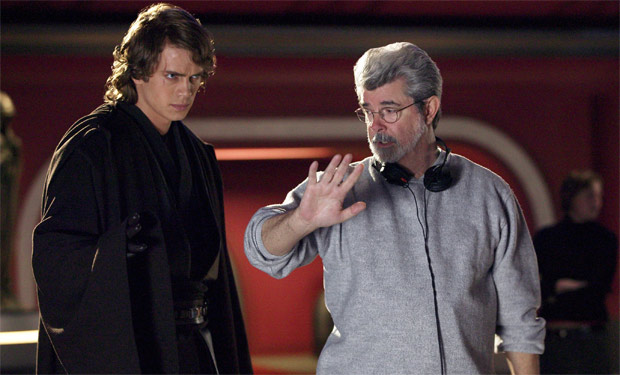 Posted by Terri Schwartz on
George Lucas has had enough of your sass. The director is calling his upcoming pet project "Red Tails" his last blockbuster film, and had said in a recent interview with The New York Times, that, after this, he's headed back to his roots in art house filmmaking.
"I'm retiring," Lucas said. "I'm moving away from the business, from the company, from all this kind of stuff."
Yes, we know, you are desperately longing for more "Star Wars" prequels to the prequels and sequels to the sequels. Well, too bad for you. Lucas has heard all of the fanboys' complaining and is sick of it. While he feels that there are "a lot more important things in the world" than bickering with angry fans, he also has no plans to return to it.
"Why would I make any more when everybody yells at you all the time and says what a terrible person you are?" he asked.
That being said, he was "careful to leave himself out a clause [to make] a fifth 'Indiana Jones' film."
Speaking of "Jones," Lucas is still defending the fridge-nuking scene in "Kingdom of the Crystal Skull." Sure, the term "nuke the fridge" has become the film version of "jump the shark," but Lucas attributes the sequence to his own naïve style of filmmaking. Plus, according to him and "a lot of scientists," the odds of surviving a nuclear explosion in a lead-lined refrigerator are "about 50-50." Who are we to argue with science.
Honestly, we're glad Lucas is returning to his roots. It was during his film school days that he had the most creative period of his filmmaking career, if we can judge creativity by new and unique projects. Between the years 1965 and 1977, Lucas created 10 original projects. Nine were short films, one of which he created a feature-length adaption for ("THX 1138") and one was an original feature ("American Graffiti"). But then "Star Wars" was released and, soon after, "Indiana Jones," and Lucas' life has seemingly been devoted to them for the past 45 years. We're glad that, following "Red Tails," the blockbuster days are over.
"Once this is finished, he's done everything he's ever wanted to do," Rick McCallum, who has been producing Lucas's films for more than 20 years, tells the NYT. "He will have completed his task as a man and a filmmaker."
For the first time in a very long time, we're genuinely excited to see what Lucas will come up with next. But, just for the fun of it, we give you this:
Are you glad George Lucas is returning to his arthouse roots? Tell us in the comments section below or on Facebook and Twitter.