The 25 funniest Zach Galifianakis poses from "The Hangover" films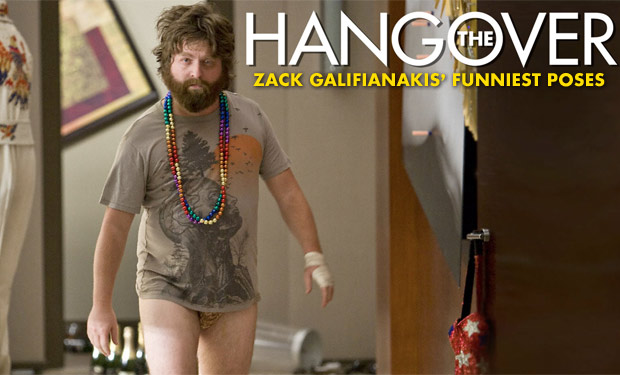 Posted by Terri Schwartz on
It's pretty easy to argue that Zach Galifianakis almost single-handedly steals the show in both installments of "The Hangover." Whether it's flaunting his ass-bearing whitey tighties, showing off a unique way of guzzling champagne or passing out on a craps table, he brings an endearing and downright hilarious brand of comedy to Todd Phillips' two films.
One of our favorite elements of Galifianakis's schtick is the funny poses he manages to pull off to make himself even funnier. So here's to crying like a wolf, being tazed in the face and peeing into Mike Tyson's pool. For adding those unforgettable images to our memories, we salute 25 of Alan's ridiculous poses. When you're through checking this out, don't forget to pick up "The Hangover Part II" on DVD and Blu-ray for even more shenanigans, in stores now.
1. "I want you to know, Doug, I'm a steel trap."
---
2. "Don't let Alan drive. There's something wrong with him."
---
3. "Woo! Road trip!"
---
4. "Do you know if the hotel's pager friendly? I'm not getting a sig on my beeper."
---
5. "Hey guys, are you ready to let the dogs out?"
---
6. *drip drip drip SHRIEK*
---
7. Not who you want for a babysitter.
---
8. "In the face! In the face!"
---
9. "Nobody's gonna fuck on you! We're on your side! I hate Godzilla!"
---
10. "You're gonna overflow the pool, man!"