Five Reasons to Watch "Alien 3" on Saturday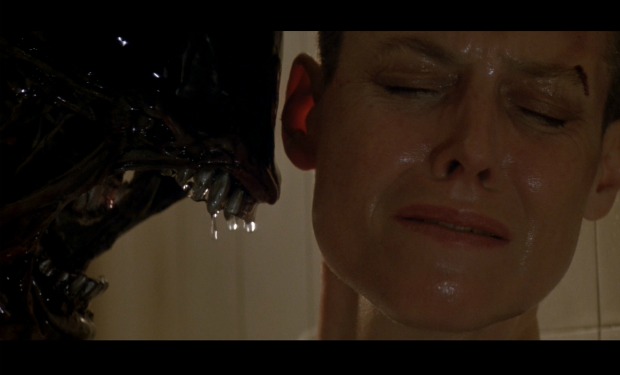 Posted by Melissa Locker on
Ever dream of spending Saturday night cuddled up with an alien and/or Sigourney Weaver? Well, do we have a hot night in store for you when "Alien 3," directed by David Fincher, airs on Saturday at 10:30/9:30c. In this installment of the Alien franchise, we find Ripley (Sigourney Weaver) crash landing on a barren penal-colony planet with an unwelcomed visitor in tow. There she contends with a group of hardened convicts while using nothing but her wits to battle a terrifying new breed of alien. If the sheer awesomeness of that plot line and the pedigree of "Alien" and "Aliens" aren't enough to convince you to watch, here are five more reasons to tune in:
1. Ripley
Sigourney Weaver reprises her role as Ellen Ripley, a woman who is frequently scarier than the alien she is fighting. In "Alien 3," Ripley is the only person who knows the alien well enough to beat it, and while her plan to corner and kill the creature just might work, a horrifying discovery reveals that her fight is far from over.
2. David Fincher
This film was Fincher's big budget debut and it is hard to imagine the pressure of being a young director asked to follow in the footsteps of Ridley Scott ("Alien") and James Cameron ("Aliens"). Fincher rose to the challenge and when you watch the film it is easy to see the talent that is so apparent in "The Social Network," "Se7en," and "The Girl with the Dragon Tattoo."
3. Alien dog hybrid
As if HR Geiger's alien wasn't scary enough, in "Alien 3," an alien stowaway gets intimate with a feral dog and a new breed of alien is born. This wee beastie is a stealthy hunter that moves on all fours and can navigate the darkened prison corridors virtually undetected. Not at all scary.
4. Fiorina 161
When Ripley's escape pod crash lands, she winds up dependent on the inhabitants of Fiorina 161. It's a group of rapists and murders who chose to repent for their sins in deep space after the penal colony was officially decommissioned. Cozy, right? Warden Andrews (Brian Glover) wisely puts her in the care of prison doctor Clemens (Charles Dance), and restricted to the infirmary until a rescue ship arrives. Things aren't quite that easy though, what with an alien roaming free.
5. Charles S. Dutton
As Fiorina 161's spiritual leader and de facto leader Dillon (Charles S. Dutton) tries his best to keep the peace in the facility of convicts. When Ripley lands on the planet, he finds himself in the position to counsel her as well, saving her life in the process. Also, he's Charles S. Dutton! You should watch anything with him in it.
"Alien 3" airs on IFC on Saturday, Jan. 7 at 10:30 PM ET; Thursday, Jan. 19 at 10:30 PM ET; Friday, Jan. 20 at 3:30 AM ET; Sunday, Feb. 5 at 8:30 PM ET; and Monday, Feb. 6 at 2:30 AM ET